Follow Your heART! This is a Blog on the Crossroads of One's Life! To follow your Brains or your heART? To get that degree, forge a career as a Career Professional or become an Artist, welding a paintbrush, camera or guitar?
This blog does not serve to advise or preach. Thank you for letting me tell my tale and journey. Make your own judgement call.
I want to share you a poignant backstory on the full-page Canon advertisement (image below) which featured me in my early beginnings of my artistic journey as a rock photographer, patiently making my way up the food chain. I cannot emphasise enough on the word – patiently. Take heed, purpose-driven life travellers.
My late dad John Sung, from when I was a young lad, saw the potential in me in the field of Arts. He told me I need not be a doctor or lawyer, he gave me permission to be an Artist. I replied that being an artist in Singapore does not make ample money. I'm focused to pursuing my business degree. I always advice people that "Water finds its level", my next level was attaining an MBA degree at a top 30 university in the USA.
Long story short, armed with an MBA degree, I proved to be good at what I did in the management consulting arena, I reached the ranks of Senior Global Partner. With good salary, equity partnership profit-sharing and sound investments (compounding interests and passive incomes), I decided to retyre. Do read my previous blog on Retyrement.
The full-page Canon advertisement uncannily came out in local and regional publications, on 11 December 2005, the actual day of my father's 20th anniversary of his passing. I felt John was winking at me from Heaven.
In my previous world of professional career as a management consulting head honcho, I was intermingling with smart people (some scholars) who ran established local and international companies and corporations. They appeared in the local and regional newspapers, magazines and TV networks and were making for themselves a nice salary and comfortable livelihood.
Then after the 9/11 attacks and the birth of of my daughter, I knew, in my heART, my Crossroad had arrived. I crossed it without hesitation. One small anticipatory step at a time. One well-lived, happy day at a time.
In my previous life as a Head Honcho, I had to use my Brains (intellect).
Now as an Artist, I relied on my heART (intuition/instincts). I knew I made the right decision to Cross my Crossroad at 44 years young.
Always nice as a Rock Photographer to be featured ironically on the front page of the local leading business journal – Business Times. I had swept the top three prizes (Non-Pro Music category) of the Lucie Awards, the Oscars of photography, held in New York City.
I like to think this article was a departing tribute gift from the business publication to me for my countless interviews I actively participated with them.
Behold, along the off-ramp, I came across other like-minded Creative Comrades who used their instincts, subconscious and God-given talents to forge their Art. In doing so, they were recognised as global Legends, Icons and god-like Titans. They never did have degrees, some were college drop-outs. Subsequently some went back to college to finish up their degrees. Some even received honorary doctorate degrees by universities.
Steve Wozniak had a very compelling reason for cutting short his undergraduate degree – Steve Jobs. You know the rest of the Apple miracle story. Woz was eventually awarded his Bachelor of Science degree in electrical engineering by the University of California, Berkeley in 1987. For his achievements in computer prowess, he has since been awarded no less than ten honorary doctorate degrees from universities worldwide.
Me and the ever-jubilant Woz at our favourite rock and roll museum and burger joint – Hard Rock Cafe. (image below).
Nice to receive in 2016, a Favourite Rock Photographer award from Hard Rock Cafe , my favourite rock and roll museum burger joint.
Honoured to get a Rock Photographer Of The Year award from Canon for my craft in 2013. Canon's my weapon of choice for capturing split-second rock moments.
Brian Wilson of the Beach Boys fame relied 'souly' on his heart and ears to compose some of the most iconic pop songs of the 60s and 70s.
Along my off-ramp journey I had the pleasure and honour of meeting this iconic music genius, Chris Stein of Blondie (above image) who co-wrote one of my favourite songs- "Heart Of Glass". He became a musician because there was no Plan B.
In 2020, Blondie main co-composers – Debbie Harry and Chris Stein – sold their music catalog, covering 197 songs, to Hignosis Songs Fund for an undisclosed muchos million mullahs,
And then there's my matey Dame Olivia Newton-John, an iconic Singer, Actress, Author and Activist who wisely advices, in the title of her hit song, Don't Stop Believing! No one can say No to ONJ. She was, no doubt, guided by her glorious and radiant voice.
By the end of her amazing life on earth – Dame Olivia was bestowed a Damehood, had a cancer welfare hospital in Melbourne named after her, four-time Grammy Awards winner, was awarded an honorary doctorate degree, sold over100 million records worldwide.
Jim Marshall pursued his focused "one thing" with his trusty Leica cameras. Sometimes accompanied by his powderful friends Messrs. Smith and Wesson.
Based in New York City, Bob Gruen showed up for almost all the concerts around New York City. Him on his feisty moped and Nikon cameras. It's easier to name the bands he didn't photograph. In relentless pursuit of his camera calling. I'm so honoured he attended my solo rock photography exhibition in New York City. Bob also kindly invited to me to his home studio for a nice chat.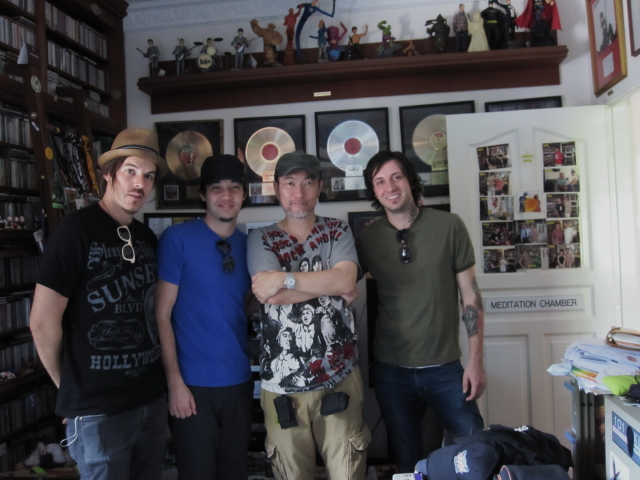 Following their heart, talent and passion, Doug Robb and Dan Estrin, of Hoobastank, wrote one of the all-time favourite love ballads – The Reason. They hung out at my home's music room – Meditation Chamber.
I sometimes sign my books with a "Follow Your heART" message. This phrase originated from this cheeky photography icon David LaChapelle (above image). He had signed his book to me with this meaningful message, I asked him for his permission to use it. He replied "Please do". I've been using it since.
Honoured for my Life and rock photography journey to be featured in a full-page article in Singapore's leading newspaper – Straits Times. Coincidentally featured in their Life news segment.
My retyrement interview by the leading local newspaper – Straits Times. It was reported that I retyred a whole decade before the norm!
As a big fan of Hard Rock Cafe since the time of its opening in Hyde Park, London, by its capitalist hippie founders Isaac Tigrett and Peter Morton in 1971, I'm honoured to have a plaque and display wall in Singapore's Hard Rock Cafe. I jokingly call it my "Hard Rock Shrine".
I always say "Water Finds Its Level". Along my ascent as an Artist, I started a fun gallery, Monochrome & His Coloured Cousins in a light-industry location (above image). Invite-only.
Honoured to have Steve Wozniak drop by my gallery (image below).
I sold the gallery sanctuary eight years later at 50% profit to my gallery neighbour.
So, at the end of a fine life or journey, which is more crucial – Brain (academic pursuit) or Heart (creativity, instinct, the "one thing")?
I went for Both. The year of my Crossroad was when I was 44 years young (image below). A ripe bold age.
If your Soul Train has arrived, get on it!
So folks, it's NEVER too late to start on your Personal Off-Ramp Journey!
Do some Heavy-Lifting in Life, put some Skin into the Game – eg. go help the less fortunate – strengthens your emotional and spiritual muscles.
Amusing observation – 99% of the rock stars and rock bands that I met and hung out with happened AFTER I retyred from the race race highway.
It was along the offramp that I met these creative icons and legends. I call them Comrade and Friends, (refer Hang Outs gallery of this website).
Like getting my MBA degree, I knew I had to Cross the Crossroad – exploring the Outer Frontiers of my God-given Inner Callings.
Follow Your heART!
Let no one tell you how to live YOUR LIFE! They should be busy figuring out their Own Amazing Lives!
And to quote my matey Dame Olivia Newton-John – Don't Stop Believing!