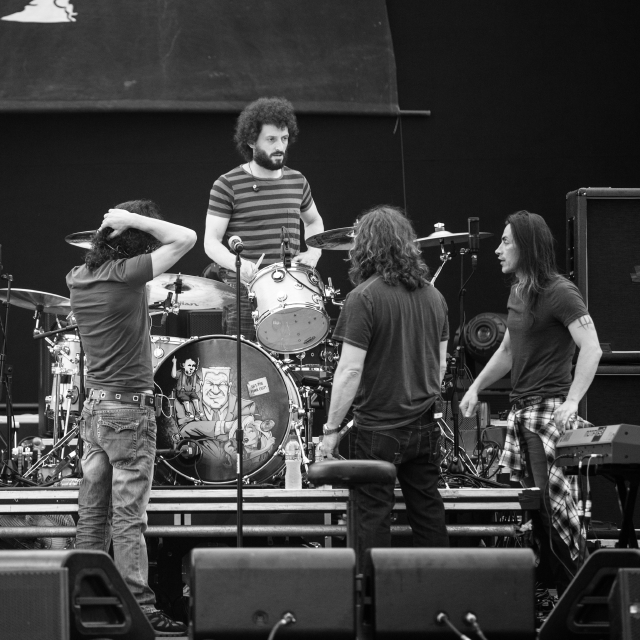 I start off my Drummers tribute blog with this telling (above) image of the band Extreme during their soundcheck – the drummer is truly the engine of the band. Here, we see Gary Cherone, Nuno Bettencourt and Pat Badger chatting with Kevin Figueiredo the drummer.
In general, singers can deflect by having a singalong with the crowd when he forgets a line or two. Guitarists can play a different chord detour as if it's a creative flurry. But the drummer has to keep the pounding beats rock steady and precise.
The following are my tributes and fun times with awesome rock-steady legendary Drummers.
Charlie Watts of Rolling Stones, man of few words, is really a jazz drummer at heart. He's been keeping the Stones locomotive hot coals burning for the past six decades. He plays with only the essential drum kit, his wrists, arms and feet provide all the musical mojo. R.I.P. Mr. Watts.
Rolling Stones Assemble around Charlie's drum kit. From left – Mick Jagger, Ron Wood, Keith Richards, Charlie… and featuring Mick Taylor who was the guitarist during the Stones' arguably most productive years and all-time best stretch of classic albums including Let It Bleed, Sticky Fingers, Exile On Main Street, Goats Head Soup and It's Only Rock And Roll.
Sadly Charlie passed away in 2021. I took this poignant image of a reflective Keith Richards looking reminiscently at the Charlie's drum set with an empty seat.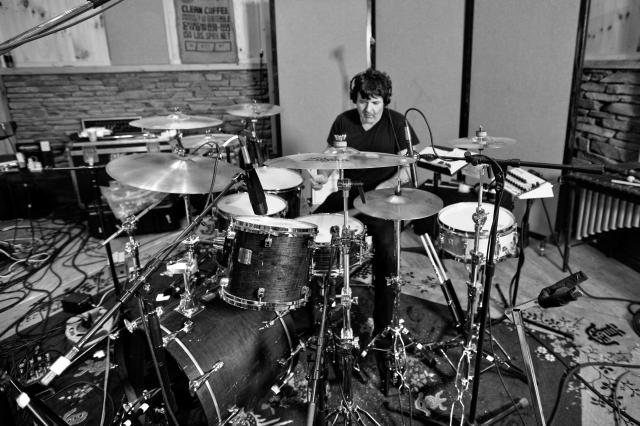 I photographed Clem Burke of Blondie during a rehearsal session for their Pollinator album in a Soho recording studio
Always fun to hang out with Clem Burke. We're at the Brooklyn Museum, New York City, preparing for a concert performance. An awesome venue.
Clem was bestowed an honourary doctorate from the University of Gloucestershire for his groundbreaking work with students as part of a pioneering drumming project. I always refer to him as Dr. Burke in my emails to him.
And then there's Mike Mangini of Dream Theater, the drum powerhouse. And he uses every single component of his complex drum fortress, except the screws.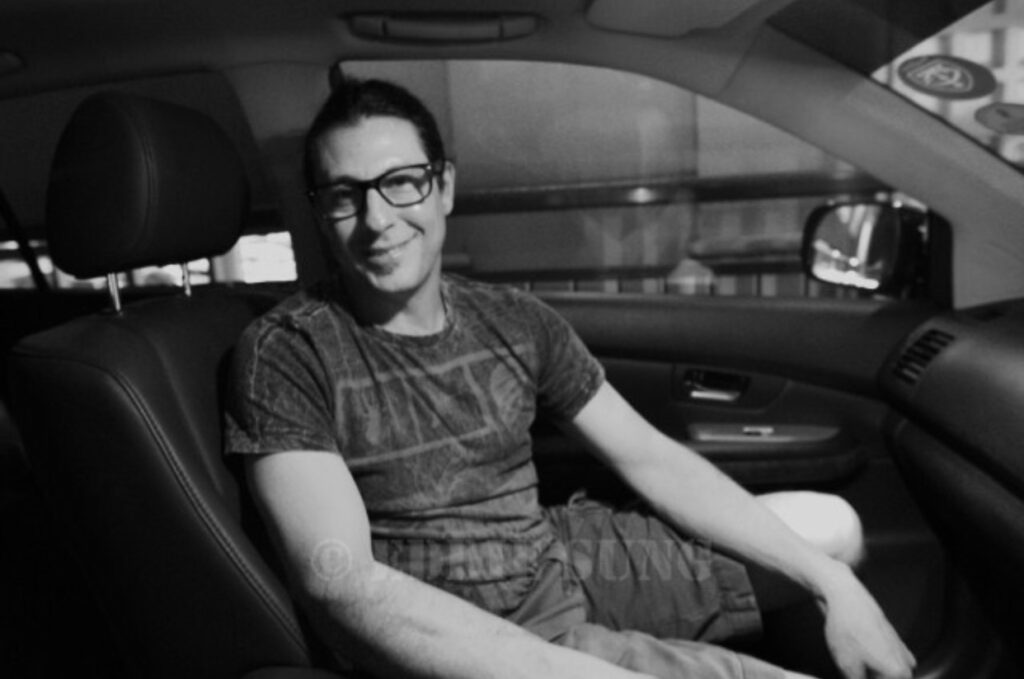 Always an honour to give Mike Mangini a ride to a local drinking hole after the concert. He doesn't look a tad tired after the gruelling two hour concert.
Always honoured when famous backbeaters hang out at my Meditation Chamber (music room) at my home. Above image – Simon Phillips of Toto. Below image – Chris Fehn of Slipknot.
I want to thank my late friend, Joey Jordison of Slipknot for – 1) inviting me on stage to take a photograph of him in front of his fans. 2) for featuring the above image of him in Slipknot's 9:0 Live CD album artwork. R.I.P. Mr. Jordison.
I took this portrait of Shawn "Clown" Crahan of Slipknot, with my portraiture 85mm f1.2 lens. The above image of him is also featured in Slipknot's 9:0 Live CD album. Thanks, Shawn!
Always an honour to be allowed Access on stage with the band. Even better – directly behind the drummer. Before that, I always get permission from the band's manager – to be on stage – and the drummer himself – for temporarily intruding into his "office". Above image – Joey Jordison of Slipknot. Below image – Chris Hesse of Hoobastank.
I like to stay vigilant in case the drummer, in the middle of a song, planted a brief glance into my lens. Above image – Chad Smith of Red Hot Chili Peppers. Below image – Gilson Lavis of Squeeze and Jools Holland Band.
Always great when drummers while working their magic sticks spare a brief warm moment for a quick smile for my lens. Above image – Lars Ulrich of Metallica. Below image – Chad Smith of Red Hot Chili Peppers.
One of my favourite and most admired childhood drummer idols – Ian Paice of Deep Purple. All of 14 years old, I bought their iconic Machine Head album when it first came out. The most melodic drummer ever, in my humble opinion. Mr. Nice Guy!
Breaking into a jam, the playful eye contact between Tre Cool and Billie Joe Armstrong of Green Day is crucial. After all, they have had over 40 years of practice.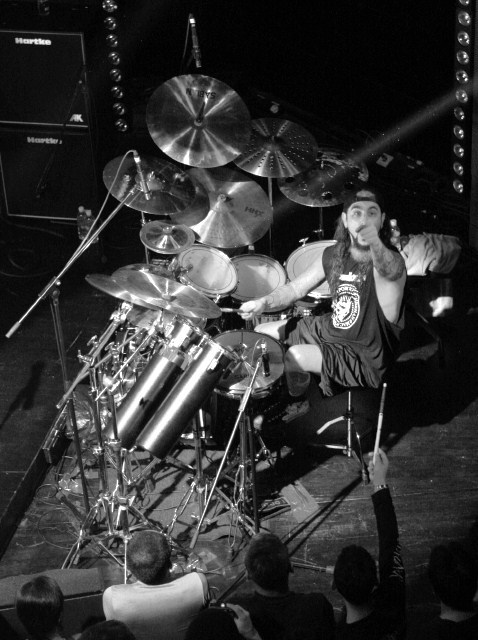 Always great to have some fun bonding with my subjects. How did Mike Portnoy of Dream Theater know that I was upstairs?
Ironic image – Shawn "Clown" Crahan of Slipknot clowns around with Sid Wilson, "drumming" some sense into each other on stage.
The legendary producer of Nirvana's Nevermind album – Butch Vig, is also the rock steady drummer for Garbage.
With my fun humble Garbage heroes after the great show.
A nice smile from Jules De Martino of Ting Tings.
Introducing Deen Castronovo of Journey.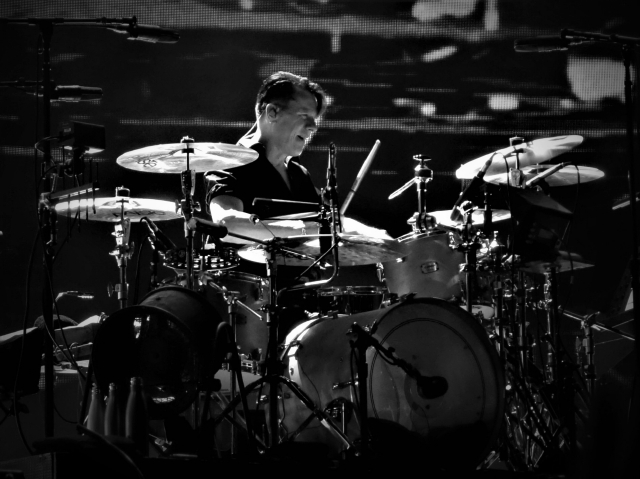 Providing the pounding backbeat to U2 songs for the past 50 years, Larry Mullen Jr. had to officially stop touring in 2023 due to an impending surgery. When U2 started out, they rehearsed in Larry's parents' home.
The day I met Steve Ferrone of Tom Petty and the Heartbreakers. He's also played with Michael Jackson, Eric Clapton, George Harrison, Christine McVie, Bee Gees, Mick Jagger, Slash and Stevie Nicks etc. An honour indeed.
I kit (drum pun) you not – 1) this Backbeat blog was written on the third day of my sore lower back muscle. I thought it was an appropriate subject to write about. 2) during the typing of this blog, a prominent drummer buddy from an established Indonesian band, after not hearing from him for over a decade, Whatsapp'd me out of the blue with well wishes,
The Beat goes on!