This Blog is about Time, and the Finite Luxury of Time.
Time is one Luxury no living person cannot afford to waste.
In all my rock photography books, I always conclude with My "Parting Shot" featuring a highly symbolic image of a weathered passageway with my old friend Ah Ngoh in the distance, bathed in bright light, waving at me.
The image is titled – "Journey Towards The Light."
I never explain what my images mean, so have fun.
I complement my little casual caution below the image – "You can make back any money you lost but Time, once spent, is gone forever."
Note: My "Parting Shot" is featured on Page 154 in my ACCESS rock photography book (above image) – which in Chinese, roughly translates to "One Cannot Die".
Having said that, I promise this will be a light-hearted Blog. See my smiling blue buddy holding my personalised brass pen. Haha.
Which brings me to talk a bit on what I've been buying (investing?) since my first management consulting paycheck – Rolexes!
I was even featured in a Rolex article in a leading business newspaper (image below). I like the heading – Ahead Of Time.
I like the tagline (image below) – "Every milestone in Eddie Sung's career is marked by a Rolex."
I'm NOT a watch collector, I don't chase or actively buy watches.
But I do occasionally get the "Look at what just arrived, and there's only one piece available" call.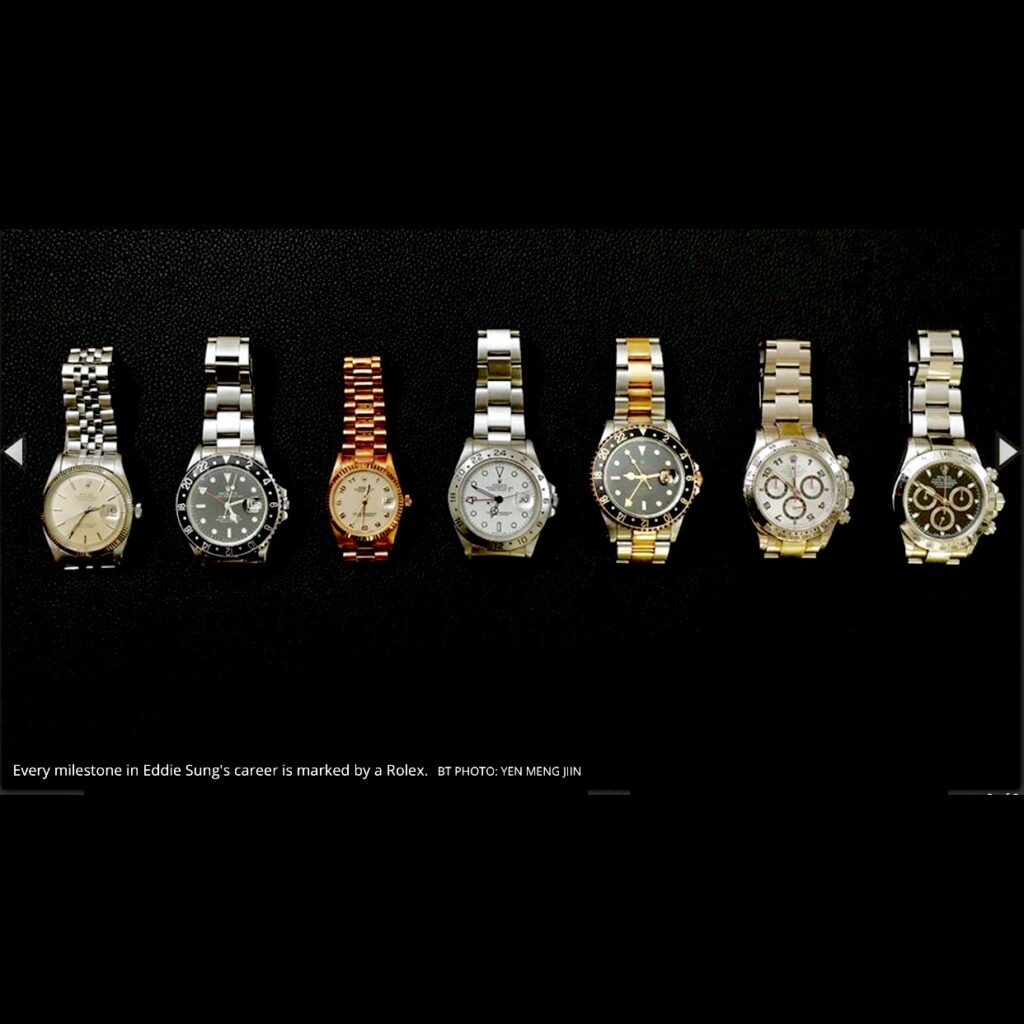 I'm amused to see the astronomical prices of Rolexes these days, especially the Sports models skyrocketing past the Moon (see my Omega and Swatch pun?)
The purpose for penning this Blog is simply this- Just Buy What Your Heart Truly Desires. Heed the italicised word – Truly. Don't bow down to peer pressure and peer pleasure. Just don't break (or rob) the bank to own it
I bought my Rolexes because I love the cool rugged sports design. I walk with a knowing bounce when there's a Rolex on my left hand. I only gravitated to the GMT, Explorer and Daytona models.
I kept the price tag when I bought my brand new Rolex GMT Master II Coke in 1987 (above image).
The sticker price was S$3,306. I got a discount and ended up paying only S$2,450. (roughly US$1 = S$1.35)
After the Rolex article came out, Sotheby's approached me to see if I wanted to auction the Rolex collection. I auctioned off all five of my Rolex sports models.
I figured since my Rolexes have already been immortalised in the Rolex article, let's do this!
I retained the gold Oyster Perpetual Datejust because it's the watch I rewarded myself for having made Global Partner in my previous management consulting firm. I also kept the sentimental stainless steel Oyster Perpetual Datejust that John, my late father gave me.
By the way, the first professional watch – the Rolex GMT Master II Coke – that I bought in 1987, fetched more than 10X what I paid for it, through the Sotheby's auction.
My Philosophy is simple –
When there's a long queue at your door, unless it's something deeply sentimental to you – SELL!
When you sincerely desire something, and you won't break the bank to own it … and the Shop is Empty – BUY!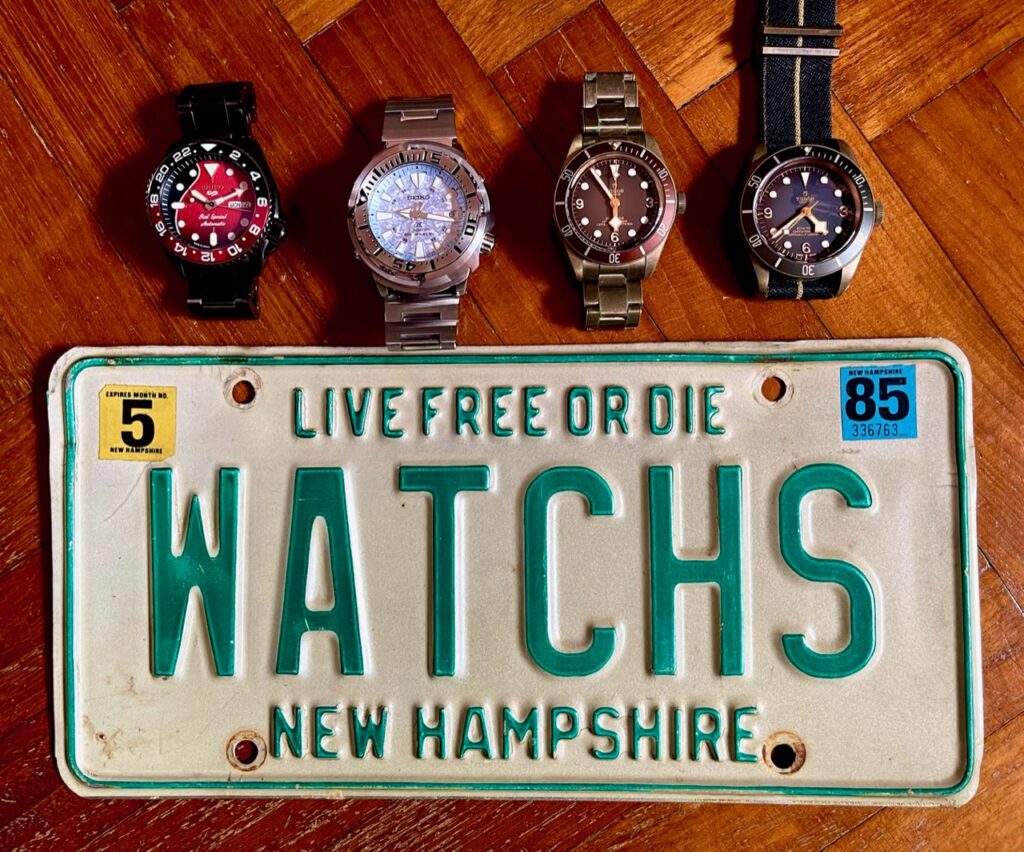 So folks, after the Sotheby's auction was over, my Rolex craze was also over.
These days as a Relaxed (see what I did there?) Retyree, I gravitated towards Tudor for what they're doing with their fresh interesting metals Black Bay series. I especially love their Bronze models with good price points. In Rolex-buyer speak: I sometimes get the "nice call from the AD". If you know, you know.
I like to mod my Seiko SKX007s. I love my modded Black Red GMT-Brian May Red Special watch edition.
I also like my cool Seiko (JDM) Frost Monster, with cool blue ice (Brrr) on the dial, no whales, dolphins, manta rays or penguin footprints to distract me.
In my previous Blogs, I mentioned Dame Olivia Newton-John and I are email-mateys. She responded with two words (I love her a gold heart!) after reading my Rolex article.
Oh! May I show these recently acquired fun personalised timepieces? Above and below images.
My advice to you – Make friends with yonng fun creative friends who knows what to do with their Time.
My "Parting Shot" – As Time is Finite and the purest form of Luxury, although capturing fast-paced concerts is essential, I DO put down my camera to savour exciting moments during the concerts. Especially when the bands are playing my favourite songs. A major perk at not being a hired hand.
I really appreciate your time in reading my Blogs and visiting my Websight.
Do Keep Safe Out There!