I want to tip my hat to a talented singer/songwriter who wrote four beautiful songs during my formative years – Stephen Bishop.
On And On. Save It For A Rainy Day. Little Italy. It Might Be You.
My first sight and sound of Bish was when his Careless album first hit the charts in 1978.
Great B/W cover! Then I noticed what he wore – a white suit with well-worn Adidas track shoes! Great fashion sense!
To top it off, who was this unknown new kid in town with an illustrious list of famous musicians backing him – Eric Clapton, Art Garfunkel, Chaka Khan, lee Ritenour, Larry Carlton and Andrew Gold. Wow
I also noticed the A-Team of studio sessionists like Tommy Tedesco, Jim Gordon, Russ Kunkel, Victor Feldman, Larry Knechtel (Bread) and Lee Holdridge was the conductor. Wow!
When I met him, I got him to sign on the cool portrait (image below). I framed it.
I first met Stephen Bishop in a now-defunct recording studio in the Tampines area.
When he first appeared in the studio, I broke the ice by asking him whether he was hungry. Then I told him there was pizza in the pantry. With this, we were friends for life. Or at least every time he's in Singapore. Haha.
An impromptu picture (framed) with my composer hero (above image).
He was in town for a gig, and he wanted to have a local band to rehearse and play live with.
One of the highlights was he played an extended version of "Save It For A Rainy Day", reggae style. Music genius!
Years later, Bish was again in Singapore for a gig at the Hard Rock Cafe (above image).
During soundcheck, I asked him whether he was going to pay the reggae version of "Save It For A Rainy Day". He said "No" and I responded with a "What the f…!". We both had a hearty laugh. Even his manager. Then he said "Maybe next time." I replied "Cool!"
Bish at soundcheck (above image).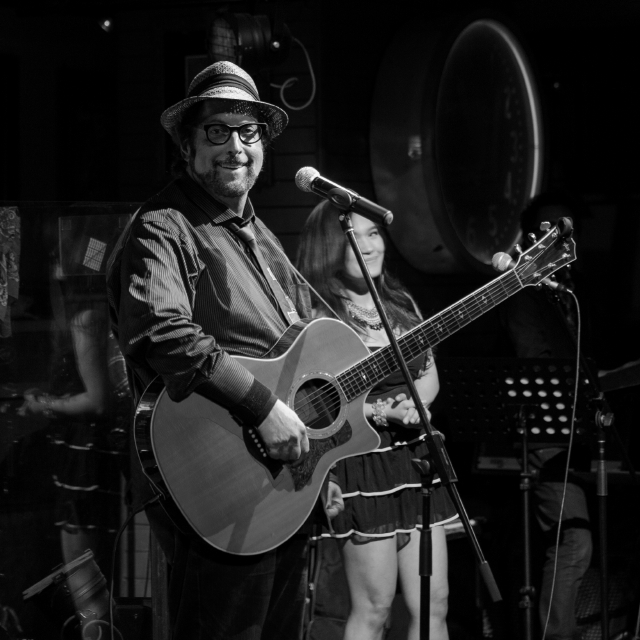 A couple of Bonding shots of Bish.
Bish and Elvis!
I always look forward to hanging out with the fabulous Bish!
Maybe Bish'll sing the reggae version of "Save It For A Rainy Day" the next time around.