The Ballad of the Easy Rider
Every time Roger McGuinn and his wife Camilla comes to town, a splendid time is guaranteed for all. Roger is the leader of the 60's psychedelic rock group The Byrds. They were known for the seminal hits – Mr. Tambourine Man, Eight Miles High, Turn, Turn, Turn and many other hits.
The first time Roger paid a visit to my home, he performed a mini-concert (with my son's plastic ono toy guitar) for my young family.
He then volunteered to sign all my Byrds and his solo CD covers! He visited Singapore years later and duly signed more of my new Byrds and solo CD acquisitions since his last visit. He also gave me some new exclusive CDs that I was not able to get. He gamely posed on clean garbage bags placed on the ground for a portrait with all of the signed CDs around his head (image below). You can tell I'm a huge McGuinn fan.
As a teenager, I was mesmerised by the hippie culture. Easy Rider was the hippie movie to watch, mainly for the rip-roaring movie-intro song Born To Be Wild by Steppenwolf.
I was also drawn to The Ballad Of Easy Rider song by Roger McGuinn. Bob Dylan wrote the first two sentences and asked Dennis Hopper to get McGuinn to finish the song. His signed CD cover (above image) is one of my most treasured music memorabilia.
Roger was the inspiration for Peter Fonda's calm Wyatt/Captain America character in the movie. David Crosby (also from the Byrds) was the inspiration for the wild Dennis Hopper's Billy character.
Years later, I got to hang out with Peter Fonda. My Easy Rider circle was complete with meeting both the lead character and the inspiration for the character.
Shopping spree – it's crucial that an iconic guitar god gets his ample supply of quality guitar strings, before we headed out west (Easy Rider speak) for some lunch.
This ironic anecdote I must share – When I got an email that Roger was heading my way, as a good host I offered to pick the "Eight Miles High" hit-maker up from the airport. To which he replied that would not be necessary. The legendary Byrd man will be arriving on a … Cruise Ship!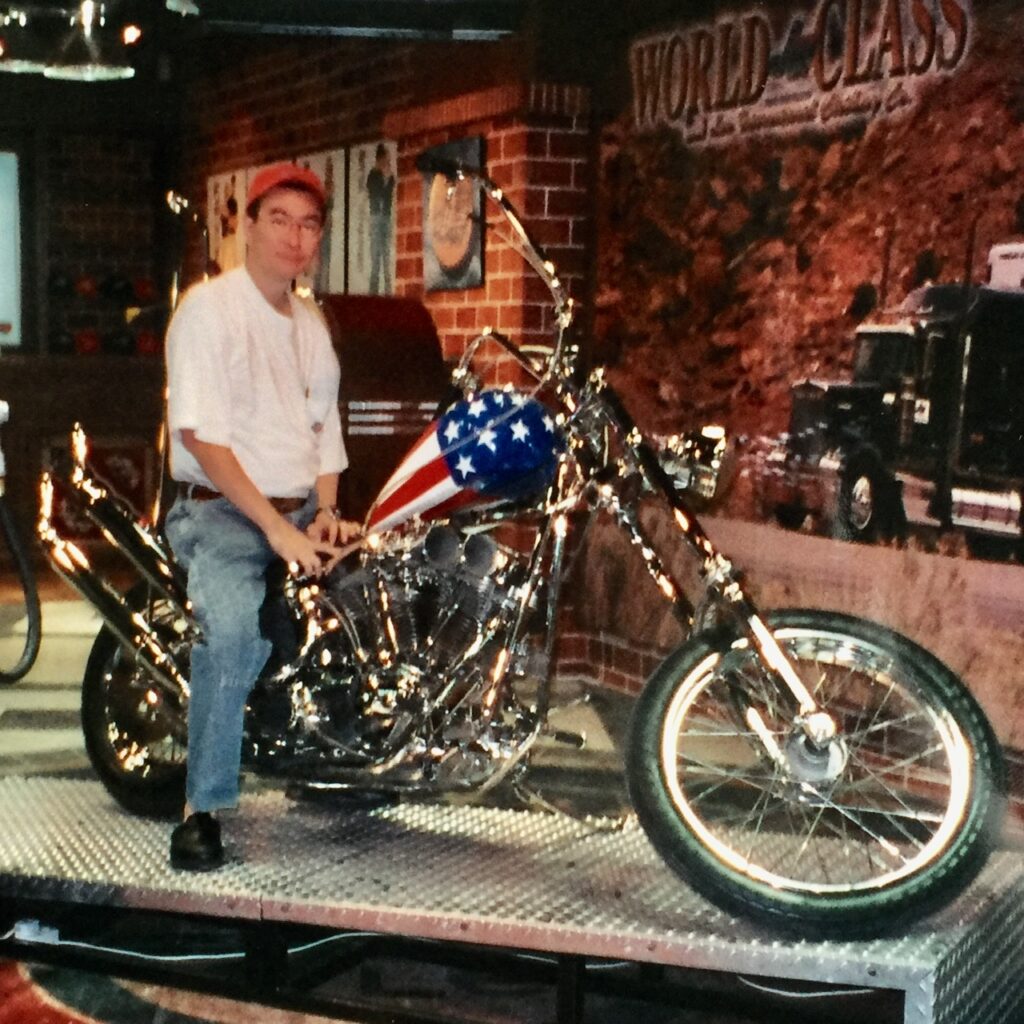 Yes folks, I did get my motor running!
Ride Easy!