I want to pen my thoughts on What I do as a Rock Photographer, and more importantly, Why.
To me, the Input – what you shoot is important – BUT the Output –what you do with what you shot – is crucial.
That's the Focus (photography pun) of this Blog – A Management Consultant's take on Rock Photography.
I always advise my young photographer friends –
Step 1 – Shoot, Shoot, Shoot – until your personal style emerges.
Step 2 – Show Off what you shot.
You'll gain confidence and get useful feedback (valuable lessons).
Sharpen your Style into a formidable, respected Weapon. Who knows, you'll soon be known for your iconic images and style.
Maximise Your Return On Images (ROI).
My friends know that the first half of my Life was that of a head honcho in the management consulting industry.
Rude Rock Realisation – I got TWO major factors NOT in my favour.
One – I only officially embarked on my rock photography journey when I was 44 years old.
A little late in the game but better late than never. Only one Life, right?
My rock photographer mentors are all from the western epicentres of rock and roll namely New York, Los Angeles and London. All started in their teens, with one crappy first camera and had only one Life calling, no Plan B. They all did great and became legends in their own right. My hats off to Jim Marshall, Annie Leibovitz, Mick Rock, Henry Diltz, Barry Feinstein and Bob Gruen. I'm proud to have hung out with them all.
Two – Me? I'm based out in Singapore, as far flung from the epicentres of the rock and roll as one can imagine. I started at 44 years old, was midstream into my Life when I grew a beard and picked up my serious camera.
I didn't care, I had a burning Mission. And juicy concerts to shoot.
These days, my serious camera is a mirrorless Canon R3. My back-up camera is a R6 Mk2.
I made sure to enjoy myself always and make as much friends as possible – with band managers, tour managers, roadies, rock singers, rock bands, touring rock photographers etc.
If you choose to Follow Your heART, better make it a fruitful and enjoyable journey.
They say the gods will reward those who dare to put some Skin into the Game.
INPUT – I want to share with you a few RULES that I follow –
I do not sign photo release forms at concerts. I prefer to shoot and give some of my images to the bands and concert promoters for their social media purposes etc. I tell them there are some personal images I will keep for myself.
I only shoot bands I love and respect. Shooting YouTube sensations (although they're immensely talented) are not my thing.
I only shoot where I'm welcome. Especially be allowed Access All Areas status into backstage. I'm proud of my formidable portfolio of rock subjects captured over the decades. Looking at my collection of concert passes (some are kind gifts from rock friends) bring pride and satisfaction to me, a portion is in above image. I have more elsewhere.
Being horded into a concert venue, shoot three songs (no flash!) and get escorted out of the concert venue was never my scene.
I don't shoot every band that comes to town. I don't bark at every passing car. Call me lazy. Haha.
There are bands that I would only shoot once, is enough.
OUTPUT – I share below some of the FRUITS of the satisfaction that my images bring me.
Although I regard rock photography as my Hobby, getting some visual mileage is always nice.
Mind you, making money was the last thing on my mind. I'm not a hired hand at concerts. Making friends was more important to me.
I made friends with talented legendary rock singers and bands. For some, I have their phone numbers, email addresses and home addresses. Some visiting rock legends at my home (above image).
I realised a whimsical dream of mine by opening and owning a rock photography gallery and studio (above image).
So far, I published four sought-after rock photography books. I see some of them being sold in eBay and other online sites at high prices.
My latest book is ACCESS: Into The Wilderness Of Rock & Roll (above image). That's Blondie on the book cover, I shot their band portrait in Woodstock, upstate New York. This image is featured in their "Panic Of Girls" album artwork.
My images are featured in rock stars' official album covers and album artworks as well as their official websites.
Nice to see a Beach Boys (I shot the B/W cover) CD for sale in a prominent Japanese record store (above image). Thanks, guys!
I also thank Blondie, Slipknot and Kitaro for featuring my images in their awesome albums.
My images are prominently displayed in Hard Rock Cafes. They even dedicated a wall to display my framed images (above image).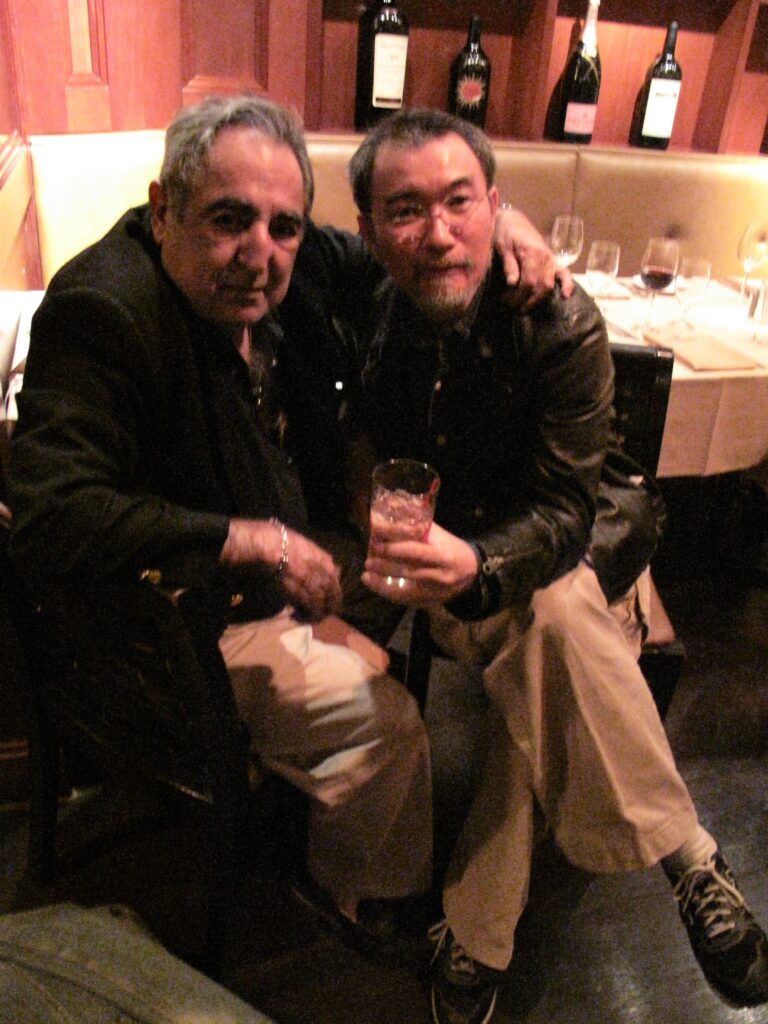 In being represented by the legendary Morrison Hotel Gallery, I'm friends and colleagues with the legendary rock photographers I looked up to, as a teenager. The late Jim Marshall bought me a steak dinner and whiskey in a high-end New York restaurant (above image).
When I swept the top three prizes for the 2006 Lucie Awards for Music, Non-Professional category, May Pang (of John Lennon "Lost Weekend" fame), was my gorgeous date for the ceremony. Every time, when I'm in New York City, we always managed to go for meals and drinks. Thanks so much, May!
Over the decades, Canon has always been a keen supporter and friend to my rock photography journey. great to be featured in their prominent advertisements. Let's just say they rather I am seen with top-grade Canon cameras and lenses.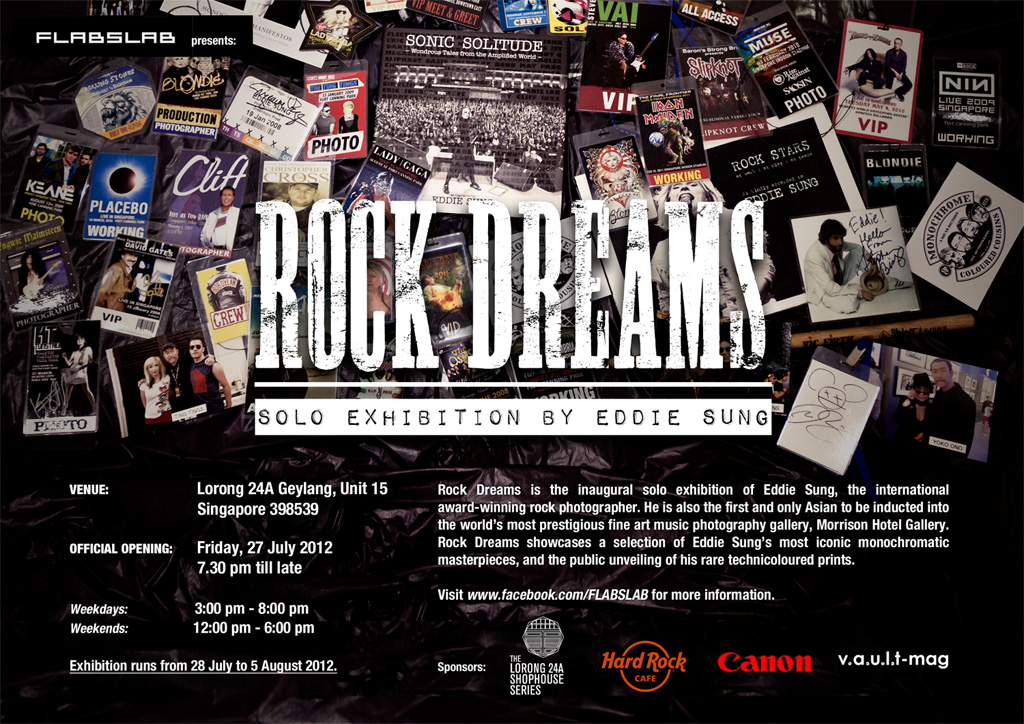 I'm proud of my solo rock photography exhibitions in New York City (organised by Morrison Hotel Gallery) and Singapore (organised by Flabslab). Great to see my dear friends, Canon and Hard Rock Cafe are exhibition co-sponsors.
Always awesome for my name and image of Dame Olivia Newton-John to be in her autobiography (above image). Even better, for it to arrive as a pleasant Surprise at my home.
Always proud to see my profile, story and beloved B/W images gracing the full pages of leading newspapers and magazines (above image)..
Never a dull moment as a rock photographer, me explaining the karmic virtues of a Slipknot concert to a Monk (above image).
Good Luck on your personal Photography Journey! If you seriously want to do something, Do It!
It's never too late! Take it from me!
Shoot, Show, Shine!
ONE OTHER THING
The above was my off-the-French-cuff Blog on rock photography. As those in the business arena know that the ROI concept hinges on the principles of the original business-related – Return On Investments.
Allow me to now conclude this Blog with the truly Important People and Things in Life.
What's of overall importance is putting food on the table. That's why I call my rock photography, only my Hobby. it's not meant to be a career that pays the bills. I wanted to make this clear.
Let me now expound on my other favourite benchmark – Return On Life.
I've always said my greatest creations are my Kids. I've seen too many rock stars so focussed in their path of fame and fortune, they neglect their families. They found that their new-found fortune were worthless without having their family around to enjoy it with.
My Family always comes first, rock photography takes second place. If I wanted more success form rock photography, I would have moved to New York. Nah, Singapore is home for me.
I once gave a talk to photography students. On the Intro slide, I put Inve$tor/Rock Photographer as to what keeps me busy these days. Half way through my presentation, I cautioned to my young audience my income did not come from my photography, which explained the Investor designation in front of Rock Photographer.
Half way through my presentation, I asked the audience if they wanted to me to say something on Investment, they let out a resounding YES.
I spontaneously changed my topics from Elvis is King to Cash is King and from Contact Sheets to Balance Sheets. Haha.
I discussed passive incomes, passing forward, giving back to society, compounding interest, keeping one's powder dry, black swans, Cash is King (always!), there's no such thing as a "hot tip" (it'll be cold by the time you hear of it), importance of having mentors like Warren Buffett, Anthony Robbins etc. etc.
Although starting out as a Blog on Rock Photography, I want to conclude this Blog with the truly Important People and Things in Life!