This is my Tribute to the Cool Record Stores of the World – the glorious past, the brave present and the hopeful future.
Stepping into a cool record store is like immersing myself into the fountain of youth. I can spend hours inside these stores.
Miraculously, ALL ailments, heartaches, headaches, burdens of the world, egos, are left outside the entrance door before you enter the record store premises.
For an hour or so, let the cool New Releases of the ecstatic Music World heal you.
Let the cool Warner Brothers, Atlantic, Columbia, EMI, Elektra, Island, Asylum, Rhino, Vertigo, Universal, Capitol, Apple, Polydor, RCA and other cool record labels heal you with their soothing balms.
I remember the fond times I stepped into Tower Records at their landmark Sunset Boulevard and Piccadilly Circus outlets, Virgin Megastores in Times Square (New York City), Champs Elysees (Paris) and Oxford (London).
Sadly these landmarks are all gone. Rentals and staff salaries are rising and demand for touchable vinyls and CDs are down.
The saying "When one door closes, another one opens" holds true.
These days we still have megastores Amoeba and Rough Trade records to visit.
Over the years, I've been to Amoeba's San Francisco, Berkeley and Hollywood outlets as well as Rough Trade's Williamsburg outlets. Totally awesome.
A shout-out to the late Borders Books and Music chain of cool stores around the world. I found my super rare copy of Spark's No. 1 In Heaven CD in Ward Warehouse in Honolulu, Hawaii back in the day.
Borders was my go-to place to buy CDs when Tower Records ceased operations.
I love the smaller record shops too. I remember a fond visit to Rhino label record shop in Westwood (Los Angeles) where I bought rare copies of Atomic Rooster and Mungo Jerry CDs.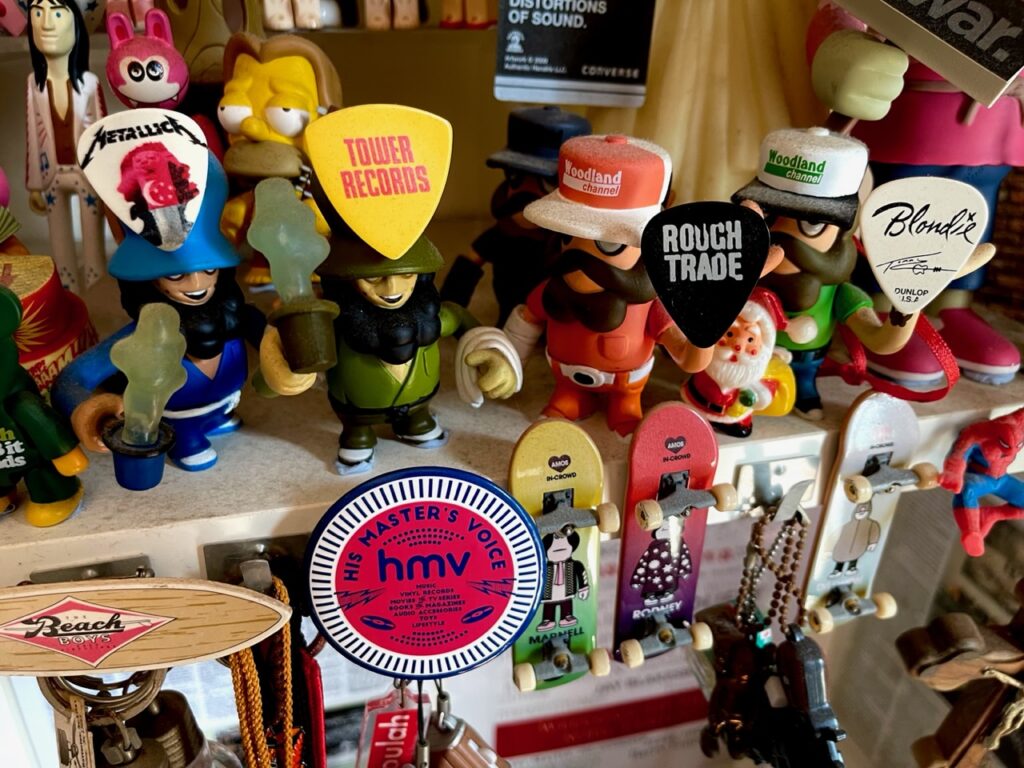 In my travels, I always make it a point to visit cool record stores around the world and pick up whatever souvenirs that I can. Tower Records and Rough Trade guitar picks, HMV button etc (above image).
Having Tower Records, HMV and Gramophone VIP cards are always cool (above image).
Tower Records still have one remaining impressive outlet in Shibuya, Japan (above image).
I'm glad I bought a Virgin Megastore T-shirt (Heaven's Angels) from their Times Square (New York City) outlet before it closed (above image).
Uniqlo shirts featured a cool T-shirt series on cool record stores chains around the world (above image). I bought the Amoeba and Rough Trade designs.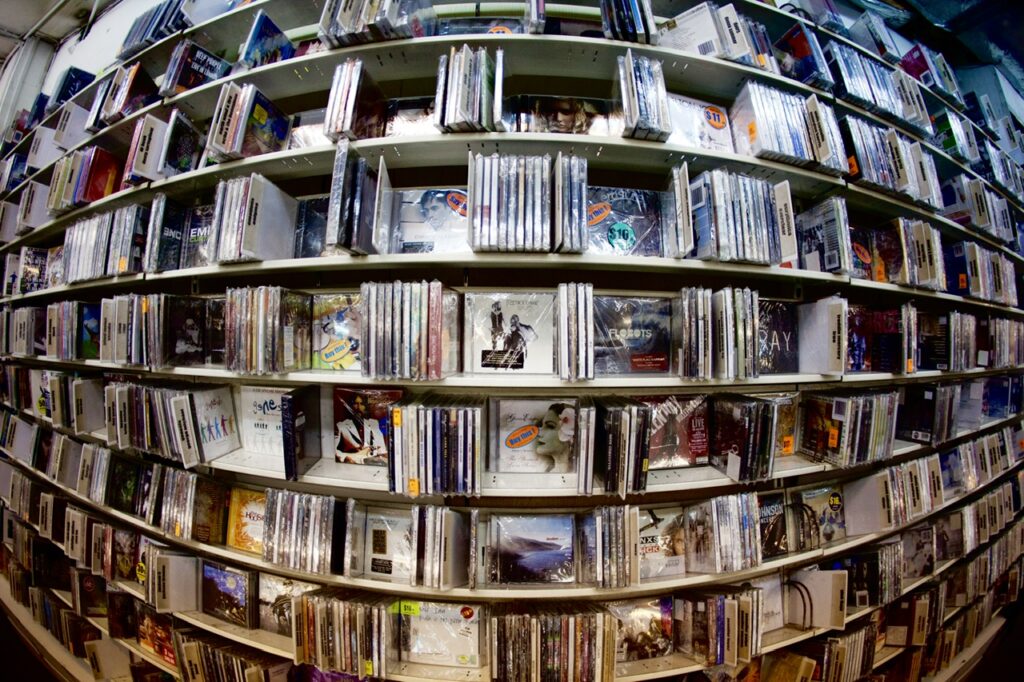 This awesome CD wall is taken at Gramophone store in Singapore before it closed (above image).
Very kind of Gramophone store to prominently advertise "Rock Dreams", my solo rock photography exhibition in Singapore (above image).
Organised by Flabslab, the sponsors consisted of my favourite companies – Canon and Hard Rock Cafe. Thanks, everyone!
This is the awesome Rough Trade record store in Williamsburg, New York City (above image).
Check out the cool container truck office hovering above the merchandise (below image).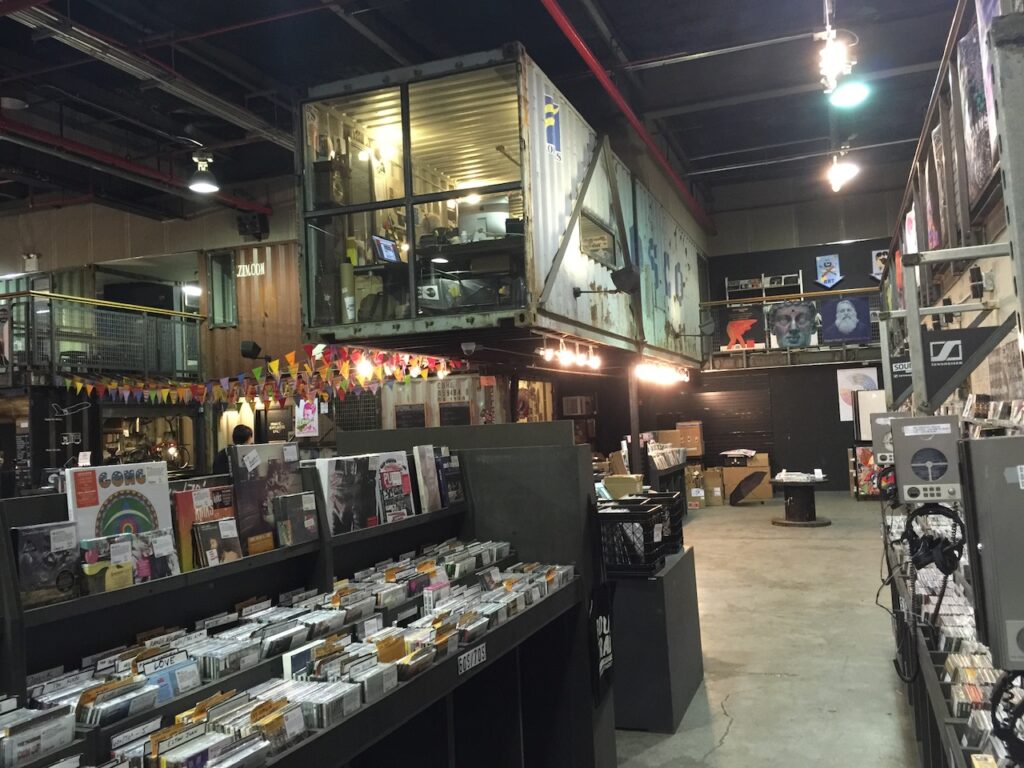 I love the industrial decor feel at Rough Trade's Punk & Metal vinyl section (above image).
I was recently in JB Hi-Fi stores in Melbourne. I must have checked out 5-6 of their outlets scattered around Melbourne (above and below images). Those bright yellow signages remind me of the Tower Records store decorations. A welcome sight.
Vinyl hunting in Singapore with Ross Halfin, rock photographer extraordinaire, he has an impressive collection of Led Zeppelin vinyls painstakingly collected over the years (above image). Talk abut being focussed (photography pun).
In my home, I've converted my music room (Meditation Chamber) into a personalised Tower Records store, stocked with only the rock artists and bands that I like (above image).
I took this poignant downcast shot of HMV on it's last day of operations in Singapore.
I tip my Hat to the Shop Owners and Keepers of the Vinyl /CD Joyous Flame around the World!
Respect!