Morrison Hotel Gallery (MHG) is the world leader in fine-art music photography (company profile image below).
Decades ago, I was inducted into the legendary Morrison Hotel Gallery (MHG) as the first Asian rock photographer to make their impressive roster of fine-art music photographers.
I pen this Blog with a grateful heart.
Unlike some of my rock photographer heroes who started shooting when they were in their teens, my rock photography journey officially started when I was 44 years young. Before that, I was happily enjoying a lucrative career as a head honcho in the management consulting arena. But deep down, I always knew my Art had to come out of me one day.
I recall a young Carlos Santana (above image) who signed with Columbia Records simply because his music heroes were on the legendary record label – the likes of Miles Davis, Bob Dylan, John Coltrane, Janis Joplin, Simon and Garfunkel, the Byrds and Johnny Cash.
In the same Carlos Santana vein, I have great pride to be in the same legendary rock photography gallery with the rock photographer heroes that I looked up to as a young lad – Jim Marshall, Barry Feinstein, Bob Gruen, Ethan Russell, Henry Diltz, Joel Bernstein, Mick Rock, Herman Leonard, David Gahr, Ross Halfin, Lynn Goldsmith and Baron Wolman.
To see my name amongst the world's most acclaimed rock photographers (latest gallery roster poster, above image) is a crucial confirmation that I, a self-taught photographer, chose the right path in the second half of my life to showcase my unique rock images on the world stage.
My MHG rock photographer profile (above image).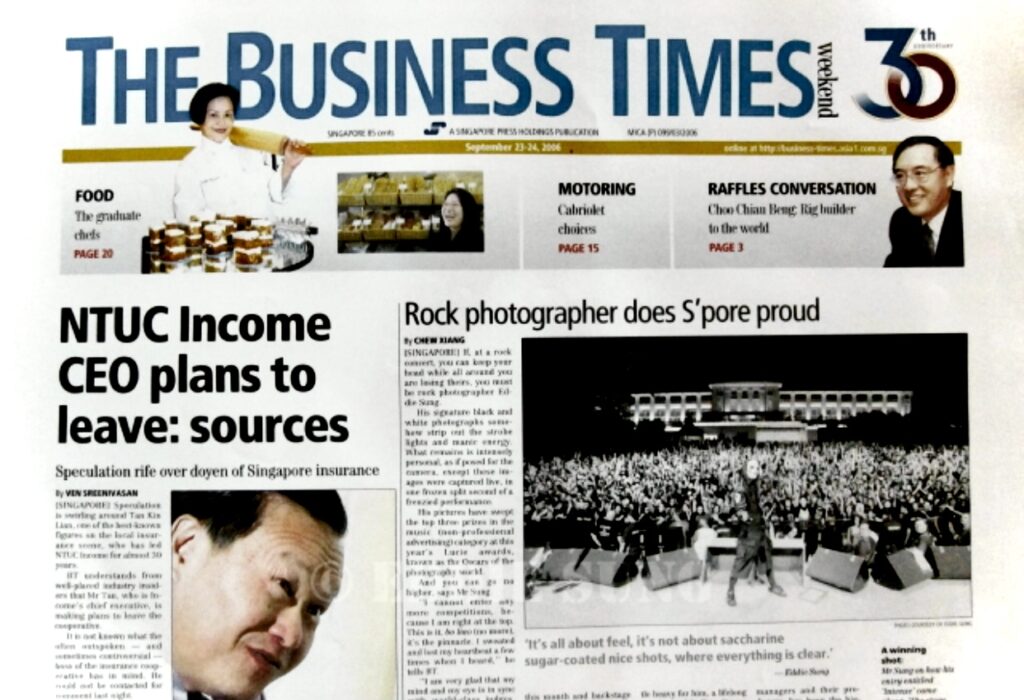 When I won the top three prizes of the Non-Professional Music Category of the 2006 Lucie Awards (the Oscars of Photography), the local prominent Business Times newspaper put this rock photographer's accomplishment (Note: a totally non-business topic) on its front cover (above image). I'd like to think it's BT's way to thank me for my ready comments every time they asked for a business quote, in my previous life as a business head honcho. Thanks, BT!
With this article and my inclusion in the world's leading rock photographer gallery roster, I'm proud to put Singapore on the rock and roll world map!
I once joked with a music journalist – MHG is the Harvard of rock photography. When you graduate from Harvard, no one asks you for your grades.
Thank You So Much, MHG!