Kitaro-san is the Grand Master of Music Instruments – Eastern and Western, Analog and Digital. Any music instruments he touches, turns magical.
Kitaro-san is also a photographer and visual extraordinaire, he uses the Canon camera system. He once wrote a theme song for Canon in the early days.
Always great to have camera chats with this multi-talented maestro (image below).
One day I saw a Kitaro concert advertisement in the leading local newspaper, I was excited at the opportunity of hanging out with my dear talented friend again.
But I was even happier to see that Kitaro-san used a Zen image I shot of him from a previous concert for the advertisement (image below).
When we met, I was happy (again) to see Kitaro-san used the same image on his concert passes (image below). I got him to sign on mine.
This is the actual image that was used. Kitaro-san also featured my other images of him in his various websites (personal, label etc)
The first time I met Kitaro-san backstage, I saw him walking towards me in the dark backstage area, I recognised his iconic long-hair silhouette. He said, "Eddie Sung, (or was it Eddie-san? Haha.) I like your pictures."
My first picture with him in casual raglan shirt in front of his imposing Taiko drum (above image).
Later during the concert, I shot a Zen photo of Kitaro-san, in traditional Japanese kimino, in front of the Taiko drum (image below). I call it the Moon Drum for obvious visual resemblance.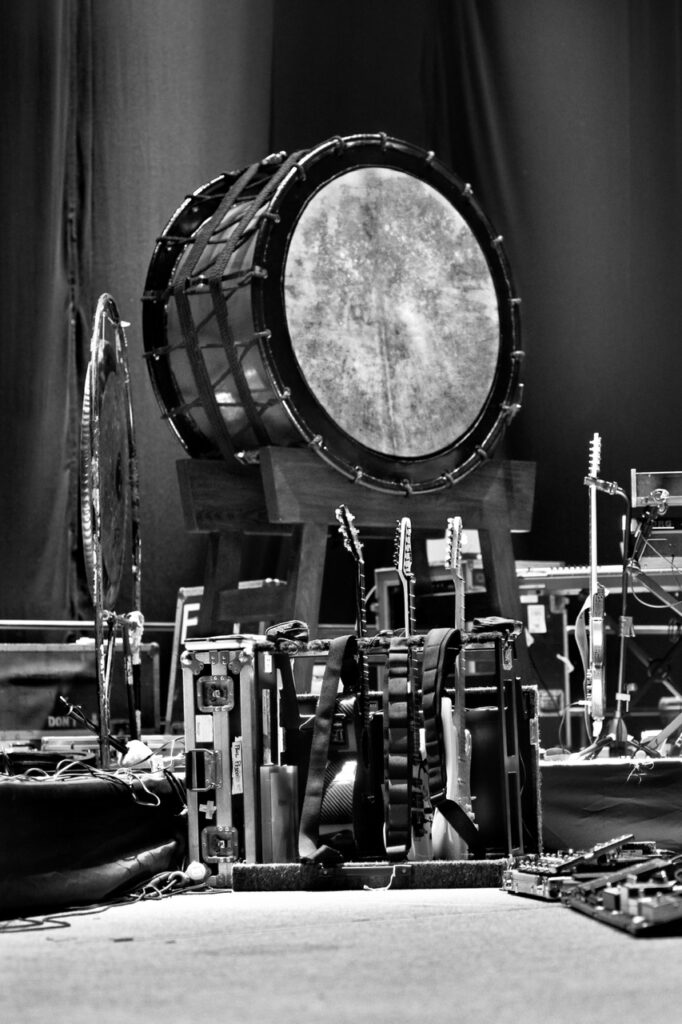 Kitaro-san's Sonic Arsenal (above image).
Kitaro won a Grammy Award for Best New Age Album for "Thinking Of You" in 1999.
I'm proud that Kitaro-san featured my portrait of him, photographed during soundcheck, in the album artwork for Vinyl and CD formats. He kindly sent me some signed and personalised album (Vinyl and CD) souvenirs (above image).
This is the actual image that was used (above image). I like the single light beam shining down on Kitaro-san. It really anchored the portrait.
Kitaro-san amazed his fans with an electric Sitar solo (above image).
Kitaro-san breathed magic into his antique flute.
As I mentioned earlier in this Blog, Kitaro-san is a Grand Master of all Music Instruments.
During the soundcheck, I was amazed and amused to see Kitaro-san whip out a harmonica and showed it some affection. Kitaro-san channeling Bob Dylan. I quickly snapped the priceless moment.
Long May You Run, Kitaro-san!