This Blog is about the Heroes of Singapore.
Singapore celebrates its 58th National Day of Independence celebrations on 9 August 2023.
I am proud to be a Singaporean!
All in all, we have done well since 1965, we are lucky to have Lee Kuan Yew (LKY) – the right man, with the clear vision and the guts to carry out his vision for this little, resource-deprived island. Not forgetting LKY's Old Guards who helped LKY lay the breaking-ground foundation from which the modern Singapore was gradually and astutely built on. It could have ended up a lot worse!
Whenever I think of the word Independence, I also think of Interdependence. Singapore depends on each other (citizens), with foreign talents, with global and regional trading partners etc. etc.
I'm lucky to have travelled to 60% of the globe, 70% of USA, 70% of Europe, all before 44 years young.
I'm lucky to have seen and witnessed numerous wondrous sights and historical moments in the history and geography of the world – including attending the Opening Ceremony of the 1984 Olympics in Los Angeles (I witnessed Global Peace albeit for just one evening), on a yacht in Hong Kong harbour during the 1997 Handover, spent Christmas in Bethlehem, crawled into the tunnels of pyramids in Eygpt, hung out with Allan Williams, the first Beatles' manager, in Liverpool, visited Jim Morrison's (singer of the Doors) grave in Paris, hung out with Blondie in recording studios twice as they recorded two of their landmark albums in Woodstock and Manhattan, meeting Yoko Ono at a New York invite-only function in New York City, being exclusively driven around Woodstock in a three-day old black Ford Mustang by Debbie Harry etc. etc.
The above are all Grade-A (for Awesome) Stuff – BUT nothing beats hearing the warm, welcoming words of the SIA pilot, instructing us passengers to fasten our safety belts and return our seats to upright positions as the plane approaches Changi International Airport.
Nothing beats the feeling of coming Home!
Lee Kuan Yew
Years ago, still adorning a corporate neck tie, I had the honour of (firmly) shaking the hands of Mr. Lee Kuan Yew, the mastermind of modern first-world Singapore (above image).
President SR Nathan
I had the honour to be invited to the Istana, the President of Singapore's official residence as part of I Love Children charity group, to meet President SR Nathan (above image) who is fondly regarded as the People's President.
My "Meanwhile back at the Ranch…" Home (above image) have had the honour and pleasure of hosting several National Heroes for dinner or casual fun visits.
This Blog is my National Day salute to them.
I list them below as a Grateful Tribute to them for their indelible contributions to Singapore's history books whether by their blood, sweat, tears, and joy.
Over the years, I have the honour and pleasure of having two brave War Heroes, a beloved Opposition Leader Politician, a record-smashing Gold Olympian, two beloved National Day Anthem Singers, come to my Happy Home for visits and for dinners.
Captain Ho Wing Toh ("Winky")
At 103 years young, Captain Winky (above image) is the last surviving member of the Singaporean Flying Tigers, a group of World War 2 pilots who assisted a Chinese-American coalition in fighting the Japanese in Asia. Honoured to have the good Captain hang out at my home (above image)
Forget Tom Cruise, we have our own bona-fide Top Gun within our shores. Go read Captain Winky's awesome book "Memoirs Of A Flying Tiger" (above image).
Thanks, Captain Winky for your signed book (above image).
Elizabeth Choy Su-Moi OBE
Elizabeth Choy was a Singaporean war heroine, educator and councillor. Along with her husband, Choy Khun Heng, she supplied medicine, money and messages to the prisoners-of-war interned in Changi Prison when the Japanese occupied Singapore during World War 2. She was badly tortured when she was caught doing good for Singapore. She taught at my alma mater, St. Andrew's School. Once I invited Elizabeth for some spicy food at my home (above image). Yes, this 94 year young national icon still could eat spicy food.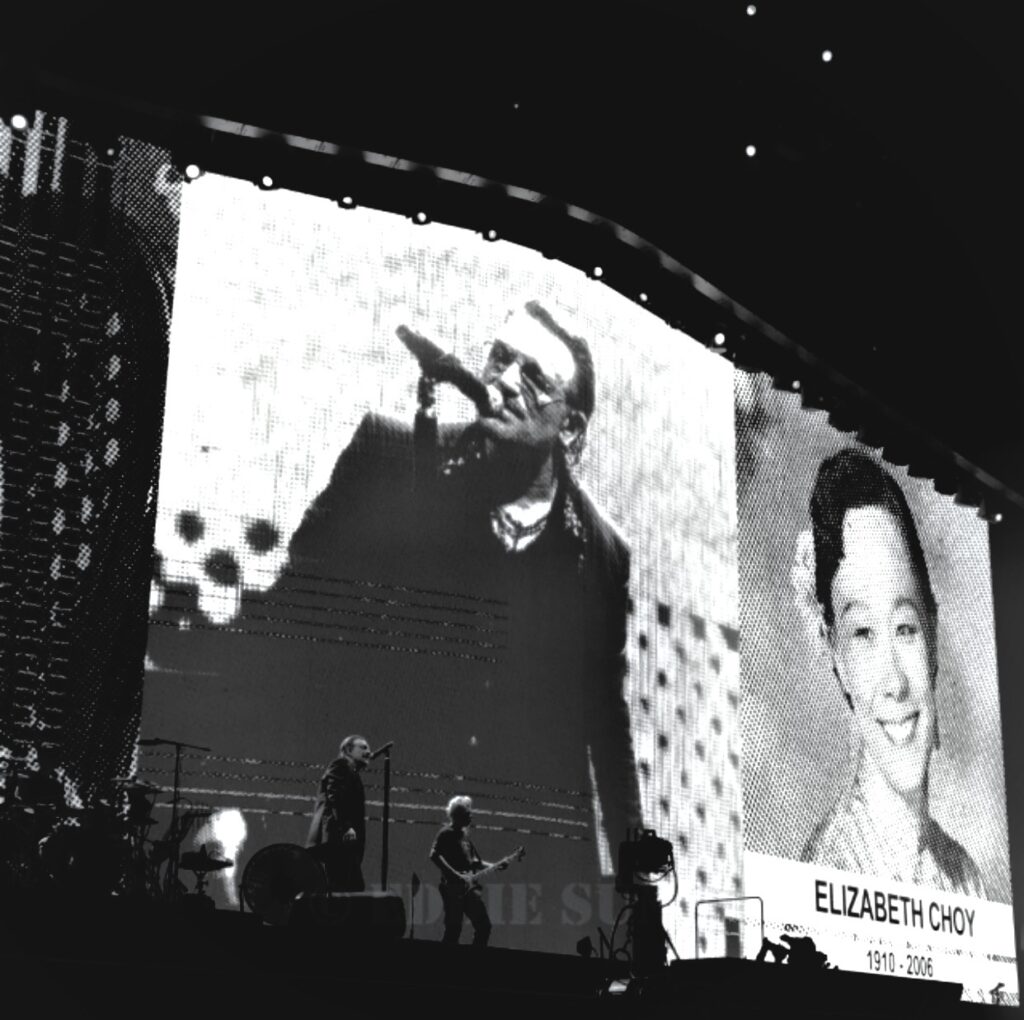 I was at a U2 concert when they featured Elizabeth Choy on the jumbotron screen (above image). I quickly took a quick snap for the local history books. A nice elegant picture of Singapore's heroine, taken during her prime, next to Bono!
Speaking of history books, I'm honoured to be named in the title of one subset in the Elizabeth Choy Collection in the National Archives of Singapore (above image).
Once Elizabeth, out of the blue, asked me what was the greatest lesson I taught my kids, I immediately answered, "Respect your elders." She was pleased with my answer.
Once I had two lady national treasures at my home for dinner (above image), Mrs. Violet Kwan of the legendary Lana cake shop and Elizabeth Choy, war heroine. Here they are heartily walloping the delicious food. At 94 years young, Violet is still the admirable Empress Dowager of Lana cake shop, although her son now runs it ably these days. I recall Chiam See Tong was supposed to come but his brother-in-law had unfortunately just passed away.
Chiam See Tong
Chiam See Tong is a respected political opposition leader. Even Lee Kuan Yew publicly voiced his respect for See Tong in being a good and upright man. President SR Nathan attended See Tong's daughter wedding dinner. See Tong in my music room (above image).
I'm honoured to host See Tong, his wife Lina and Violet Kwan for a fun dinner at my home (above image). The dinner went on till late at night. My kids were asleep with their heads on the table by then. They knew they were witnessing history at the dinner table that night and so didn't go to their bedrooms to sleep.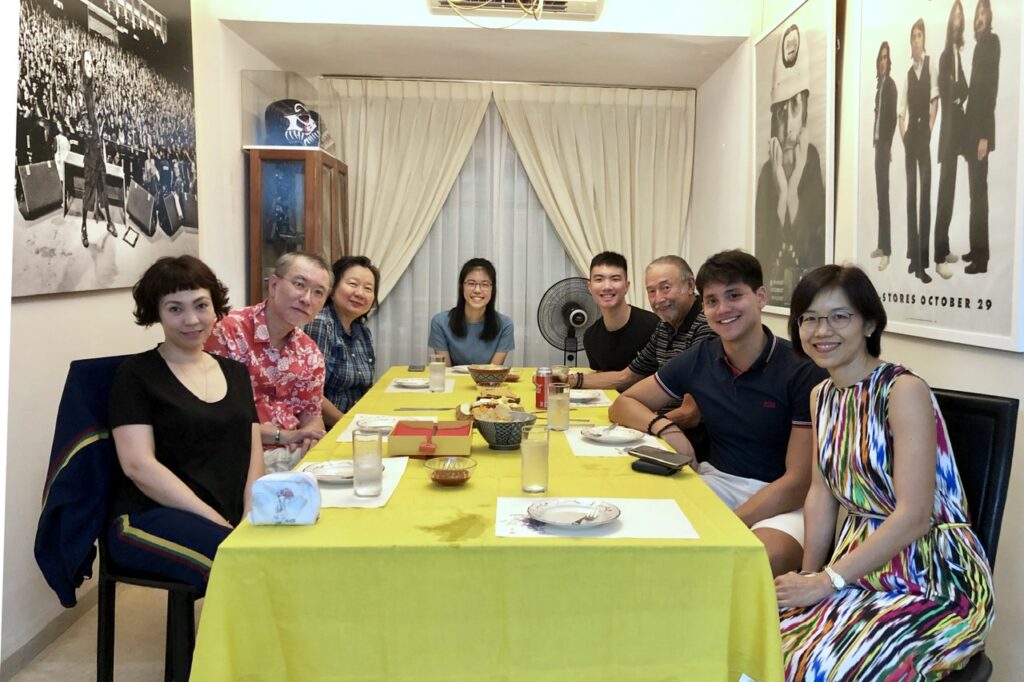 Honoured to have the Schoolings (Colin, May and Joseph) and Kit Chan come for a fun sea food dinner at my Home (above image). I miss the cheeky Colin Schooling very much.
Joseph Schooling
Joseph Schooling is Singapore's first and only Gold Olympian. Colin and May sacrificed much (faith, money, emotions, patience, time and foregone sleep) to ensure their son would, one day, stand on the top of the podium during Rio Olympic Games prize-giving ceremony, listening to the Singapore national anthem being played. A proud day for Singapore and Singaporeans! This day we'll NEVER forget, Joe!
Kit Chan
Kit Chan sang Singapore's most popular National Day song "Home" and is enjoying her 30th anniversary in the music business.
Clement Chow
Clement sang another favourite National Day song, "Count On Me Singapore". Honoured to have Clement hang out at my home (above image). See my Guns N' Roses Singapore concert T-shirt.
This is an official excerpt from my New York Gallery profile write-up (above image).
Eddie Sung "lives, happily ever after, in sunny Singapore with his wife and two children."
"A happy Family is a happy Home. A happy Home is a happy Soul." – E.S.
I bookend this Blog with an assuring, cheerful and optimistic Lee Kuan Yew image on stage. I shot it during the SG50 National Day celebration rehearsals. He gestures "It's gonna be alright, Singapore!"
I presented a framed signed print of that LKY image to his son, the current Prime Minister, Lee Hsien Loong.
Happy 58th National Day, Singapore!