There's 86,000 reasons why Hard Rock Cafe is The Smithsonian Museum of Rock and Roll. That's roughly the number of rock and roll memorabilia in Hard Rock Cafe's (HRC) collection as of 2023.
It all started when Eric Clapton donated his Stratocaster to the original London outlet in Hyde Park. Subsequently Pete Townshend donated his guitar. And the Beat goes on!
Started by my entrepreneurial hippie heroes, Isaac Tigritt and Robert Morton in 1971, the HRC empire is now owned by the Seminole Tribe of Florida.
Once in the late 80s, I was queueing at the London Hyde Park outlet in the cold wintry London weather, and I caught sight of the actress Sigourney Weaver swiftly walking into the restaurant, showing a "mystery card" to the gatekeeper. I told myself I needed to get that card.
Years later, I did have a few of them magic VIP Cards (some kindly personalised) which gets me immediate access into HRCs around the world (above image). These days the queue is shorter but the Cafes still rocks with its amazing memorabilia on the walls.
A fan of HRC since a college kid, signing and donating my prints to HRC – especially when signing "To Hard Rock Cafe … Best wishes, Eddie Sung" – are proud moments for me. Even more special when Slash adds his signature to my HRC Sentosa Slash print (above image).
I thank the HRC management especially Duncan Craig for dedicating a wall to display my framed images (above image). I call it my Shrine.
Sometimes I have overseas music-loving friends who like to see my rock and roll shrine (above image). Here are the crazy fun Star Wars 501st Garrison (both local and overseas contingents). They were in town for Dominic and Kimberly's (the stooping smiley couple in front of me) wedding celebrations, .
An honour for me and family to have lunch at HRC with Steve Wozniak, co-founder of Apple Computers (above image). Steve's been to almost all their outlets around the world. How cool is that?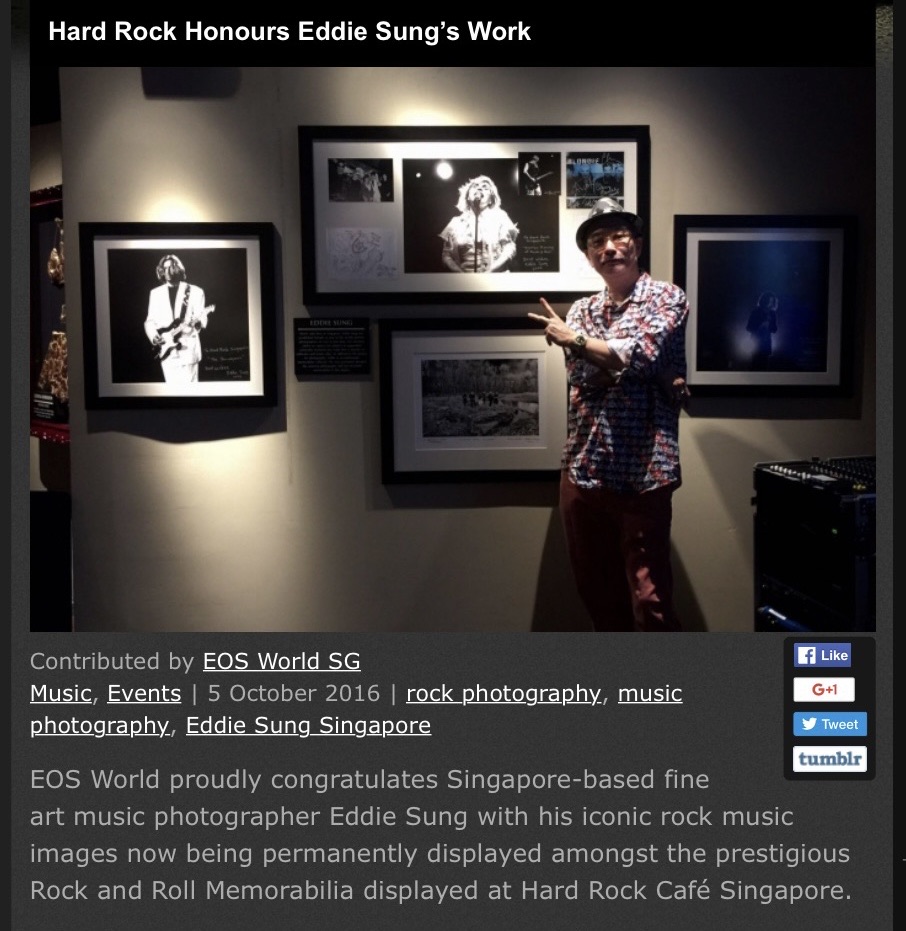 Totally honoured to be given a trophy for being HRC Favourite Rock Photographer in 2016 (above and below images).
Always great to be invited by HRC Managers to (Messrs. Mark and Jeremy) hang out over a fun fellowship meal (above image).
My buddy Hala Khalaf, merchandise guru from HRC HQ in Florida, photobombs my HRC plaque pix before it is installed on the wall (above image).
I appreciate rocking friendships and exactomundo precision! Thanks Hala and Mike (above image)!
HRC kindly let me use their awesome restaurant to be interviewed, together with my young son, for a local TV Channel (above image). Me explaining to my son the awesomeness of photographing a Slipknot concert (below image)
Once Canon organised "An Evening With Eddie Sung" at the HRC. They held a B/W photo contest and six winners had a fun dinner with me. Here they were presented with my "Sonic Solitude" book and some cool goodies from Canon (above image). A fun evening indeed.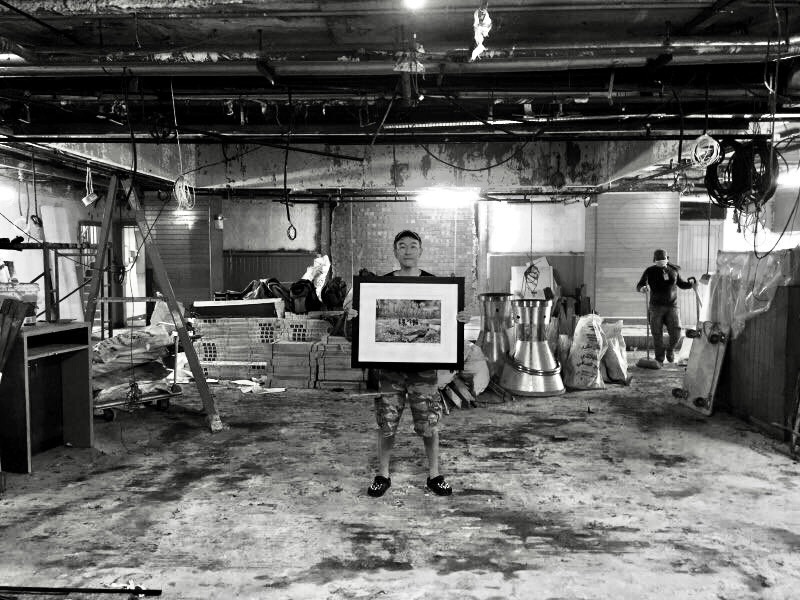 Me with my beloved "Blondie, In Wilderness" framed print, awaiting to be re-mounted on a prominent wall in the new spunky HRC premise, after the renovation (above image).
Satisfying my curiosity in wondering what's it's like to BE an actual HRC memorabilia (above image). Haha.
Hard Rock Cafe Rocks!