Frankie Valli is the original iconic Jersey Boy. It turned out that Frankie and I share the same favourite Four Seasons song, and it's not a hit song.
I was talking to Frankie Vallli's manager backstage and I mentioned that my favourite Four Season's song is actually not a hit song. On hearing this, he added that it was also Frankie's favourite song.
With that, he escorted me directly into Frankie's private room. He went forward to say something to Frankie, then he gestured me to approach them. "Mr Valli, this is Eddie Sung, he has something interesting to share with you". With that, the manager left the room to let us chat.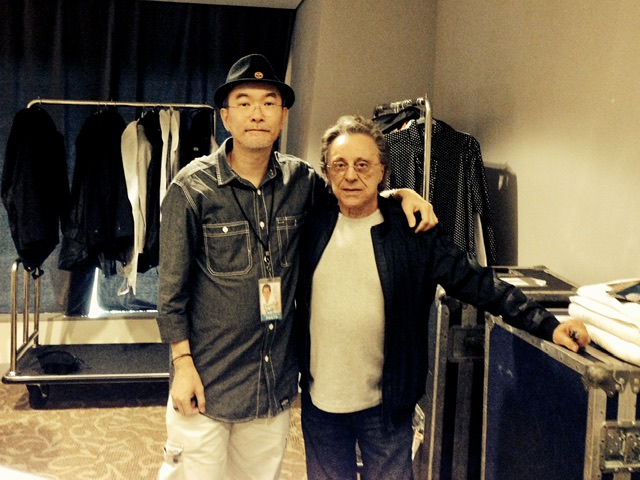 I proceeded to tell Frankie that "Harmony, Perfect Harmony", not a hit song, is my favourite song. It's from the album Who Loves You. I told Frankie that every weekend when I returned home from national service (army) training, I would always play that album to re-invigorate.
I also played Bee Gees' Main Course (with the songs Nights On Broadway, Fanny (Be Tender With My Love), Edge Of The Universe, Baby As You Turn Away) and Chicago's "X" album (with the song If You Leave Me Now).
My two favourite latter-day hard-to find Four Seasons – Who Loves You and Helicon CD albums. Frankie patiently signed all three for me. I still have the original vinyls in my storage facility.
After my chat with Frankie, he let me stay in the room to photograph the group prayer session with the Four Seasons band members and road crew. To get a great aerial shot I had to stand on Frankie's chair. Of course, I dusted it clean afterwards.
A cheeky Frankie smile for my lens.
Always grateful to be allowed onstage to capture Frankie interacting with his ecstatic fans.
Shot during soundcheck, I love the surreal light ambience on stage.
An exclusive Frankie Valli leather bound dossier for trumpet song renditions.
A fun group "shot". I call this the "Firing Squad" image.
A poignant image depicting how the music legend casts a long and enduring shadow on the music world.
Thanks for letting hang out with you, signing my CDs and letting me take pictures on stage, Mr. Valli.