3 September 2023 was a fun and surreal night I would never forget. That night was Elvis & Friends Dinner and Dance Night.
That night, a bunch of Elvises returned to the building.
I made many Elvis impersonator friends and I can tell you they were great. They had passion and great Elvis voices.
I love people with alter-egos. They all have successful day-time jobs but by night-fall, they pursue their passions – whether it's art, photography, Harley-Davidson riding concert security, Star Wars cosplayers, Elvis impersonators, authors, stand-up comedians etc,
You can tell I had tremendous fun hanging out with my new-found Graceland friends. And photographing them (above image).
Check out my Levi's Elvis T-shirt.
I dig Elvis and have several of his memorabilia (above image) – Elvis shades, Levi's Elvis T-shirt, Andy Warhol Elvis skate deck and numerous CDs.
But I'm nowhere near the passion of my Elvis friends.
This is Jeffhery Foo, he is a true-blue Elvis fan. To use the word "fan" is an understatement.
I took this portrait at his home. He's wearing his immaculate Elvis American Eagle suit.
Next to him on the sofa, is his Elvis Sundial suit (above image).
Jeffhery's is the one who kindly invited me to the Elvis and Friends Dinner and Dance event.
Jeffhery soars like an American Eagle (above image).
He started suiting up as Elvis in 2010.
Six Elvises on stage – from his different eras (above image).
From left to right – The event MC Dennis Ng, Titus, Joan, Steven Monis, Reto Caviezel, Dwight, Khit and Jega (above image).
Me (in my Levi's Elvis T-shirt) and Jega before his performance. Jega loaned me his Elvis shades and "Aloha From Hawaii" lei.
Jega brought his A-game to the event. He got his Elvis mojo moves down pat (above image).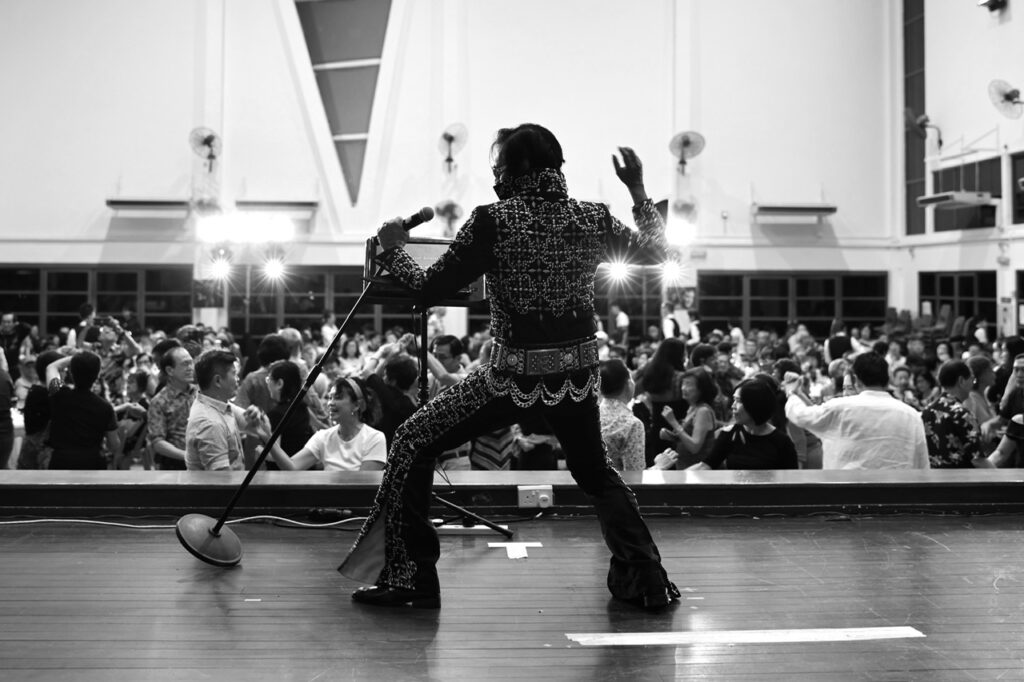 Jega's "Don't step on his black suede shoes" moves (above image).
"Love Me Tender", so sayeth the Hound Dog on his phone (above image).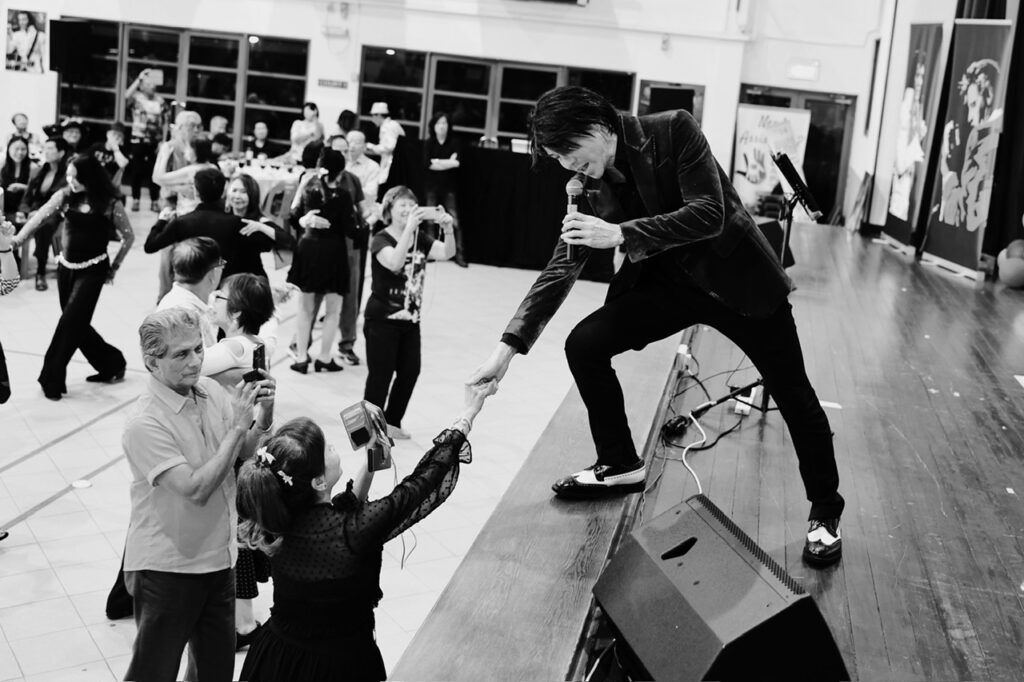 This is my buddy, Reto Caviezel (above image).
Titus in his Elvis '68 Comeback-era leather outfit, complete with electric guitar (above image).
Titus and his sister Joan (above image).
My friend Khit has an amazing Elvis voice (above image).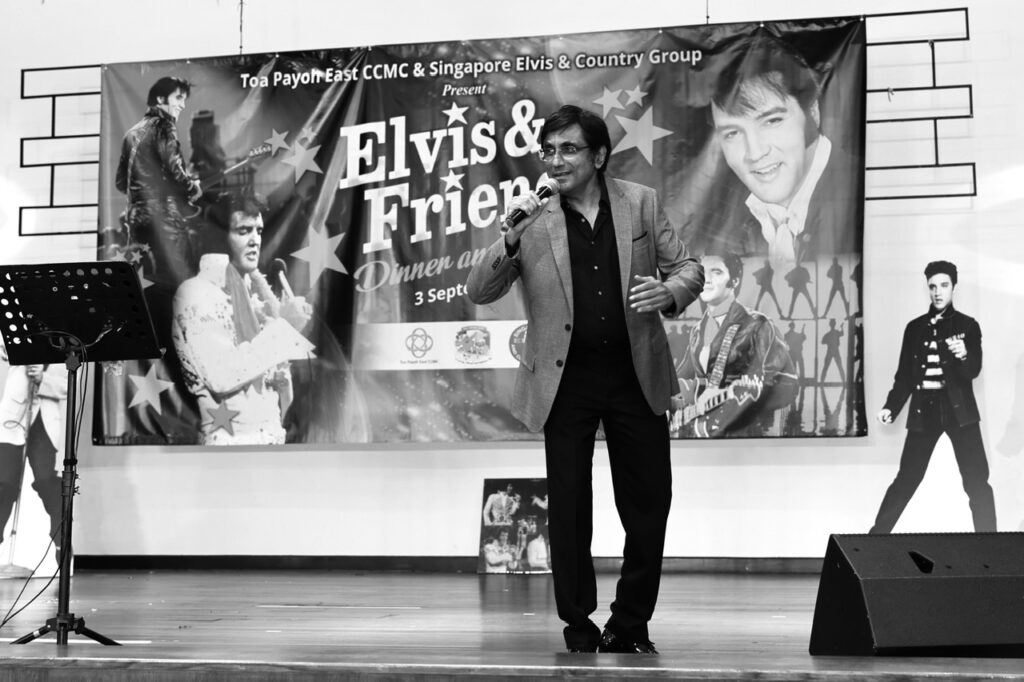 Dwight is a chill and fun Elvis crooner (above image).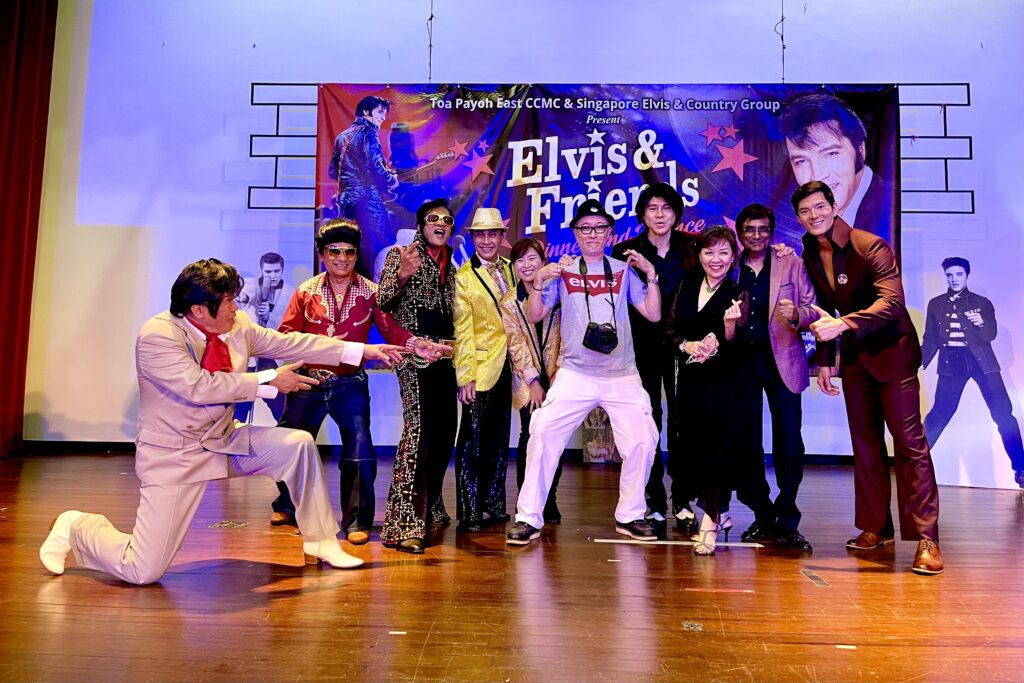 Oh, what a fantastic and fun Elvis night! (above image)
Thanks, Jeffhery, for the "Elvis is in the building" dinner and dance invite!