The day Carlos Santana offered to pay for my Laundry Bill.
I had the honour of photographing Carlos many times and every time it was a magical experience – both front stage and backstage. He always grants me the privilege of shooting the whole concert.
This is my Tribute to Mr. Santana – one of the most gifted and iconic Guitarists that ever graced the stage!
I want to thank Carlos Santana for his kindness granted (All Access and VIP) to me and my camera every time he comes to town (above pix).
This is my collection of Santana concert passes over the years (pix below). Carlos Santana skyrocketed to world-wide fame after playing at the legendary Woodstock music festival in 1969, together with the likes of Jimi Hendrix, Janis Joplin, the Who, Crosby, Stills, Nash & Young, Grateful Dead, Jefferson Airplane and Creedence Clearwater Revival etc etc.
Steve Wozniak, co-founder of Apple Computers, (more on him below) bankrolled and organised the famous US Festivals in 1982 and 1983 – fondly regarded as the Woodstock of the 80s.
Here's a Carlos Santana story for you – once when I was working in Chicago in 1987 whilst on an assignment for my US management consulting company, my Japanese college buddy, Mike H, invited me to San Francisco for a visit. He had gotten tickets to a Sadao Watanabe concert. It was in an informal dark concert setting. During the concert, the guy next to me (on my right) crossed his legs and his boots brushed against my jeans. I caught sight of his alligator boots and noticed he was wearing shades (in the dark venue)! I immediately recognised that it was Carlos Santana!
I quietly told my friend, he let off a mild excitement which I told him to stay cool. Carlos must heard and gave me a hug. Later, during the intermission Sadao Watanabe announced that he had a few friends there that night He mention "Carlos, where are you?" To which Carlos stands up and waves to the room. As he sat down, he gave me another firm hug and asked me whether he could get me a beer. I told him I also had a few cold ones to nurse myself. We went on to enjoy the superb Sadao Watanabe concert.
Fast forward to 2008, me and Steve Wozniak (Apple Computer co-founder) were going to a Santana concert in Singapore. We were in my car on the way to the concert when I told him the above alligator boots story.
When we went into the dressing room, I let the living legends Carlos and Wozniak catch up with each other as they were already friends. After a few minutes, Wozniak gestured to me to join them.
He then said "Tell Carlos what you told me in the car". So I did. After which Carlos jokingly enquired "How much do I owe you for the laundry bill?" followed by "What's Sadao doing these days?".
Me finally hugging the Owner of the Alligator Boots from years ago in San Francisco.
A playful split-second gesture by Carlos Santana. It greatly helped having hung out (rapport building) with him backstage before the concert.
I already began photographing Carlos way back in 1983 for his Havana Moon album concert tour at the Aloha Stadium, in Oahu, Hawaii.
Carlos in the Zone.
I do not shoot every song that Carlos plays. I usually put down my camera when my favourite Santana songs are played. Having the best seat in the hall, in front of the barricade, all to myself, I savoured the moments when these songs were played – Black Magic Woman, Soul Sacrifice, Oye Como Va, Aqua Marine, Smooth and Samba Pa Ti.
Plus I'm always conscious not to distract Carlos all the time with my camera pointing at him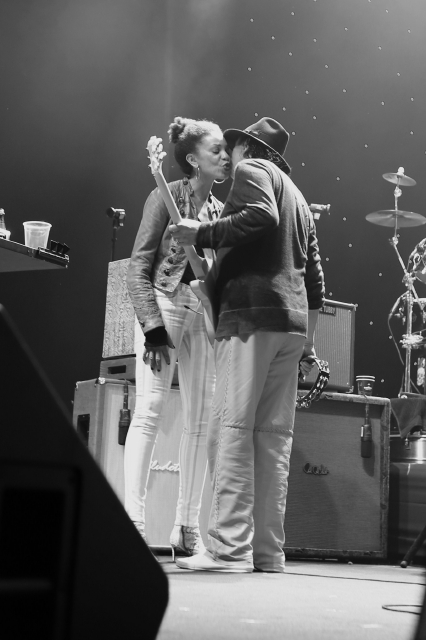 Sharing an intimate "non-guitar lick" with his lovely wife – Cindy Blackman Santana on stage.
This shot (and others) of the couple, I specifically shot for them. I emailed them the shots the day after the concert. Cindy promptly posted her nice comments on the Singapore gig the next day. Cindy was amused when I told her I was not on any social media.
I guess Mrs Santana liked the above image I took of the playful interplay between the guitarist and the drummer. Not to mention the intimate eye contact between the lovebirds. Appreciate the social media post, Cindy!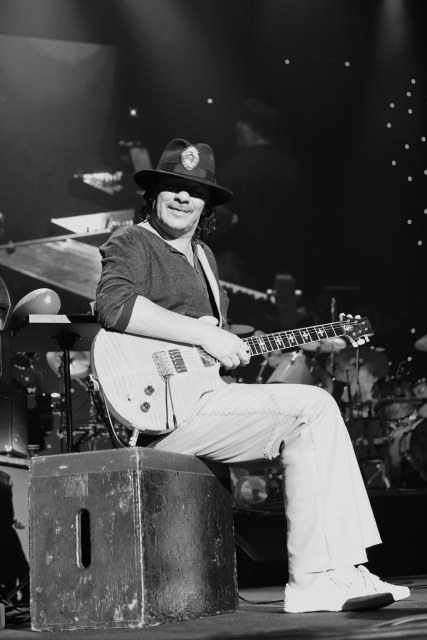 A nice smile for my lens.
Carlos checking to see if I was with the program.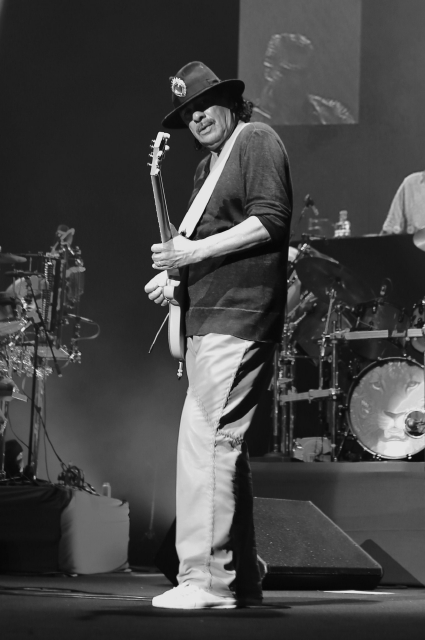 Carlos checking to see if I was still with the program.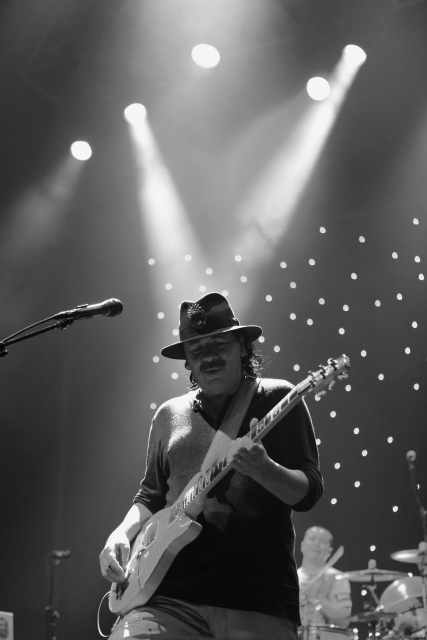 Carlos lets off his signature guitar solo in the intersecting "crossfire hurricane" spotlights.
Carlos signed my print of him looking into my lens from the previous concert. It hangs near the quiet spot where I do my daily reading at home. I left the protective wrapping intact as I thought it looked cool as an art piece.
I am the proud owner of this signed original limited edition lithograph of Santana's Abraxas awesome album cover, signed by the German-French painter Mati Klarwein. He was also responsible for designing Miles Davis' Bitches Brew album cover as well as for Earth, Wind and Fire, Herbie Hancock and Gregg Allman album cover artworks.
On a different subject on Albums, there are very few rock bands who have scored awesome hat-tricks (3 in a row) in album releases. These are my favorite ones – 1) Beatles – Revolver, Sgt. Peppers, White Album 2) Rolling Stones – Let It Bleed, Sticky Fingers, Exile On Main Street 3) Led Zeppelin – IV, Houses Of The Holy, Physical Graffiti 4) Pink Floyd – Dark Side Of The Moon, Wish You Were Here, Animals 5) Santana – first 3 albums.
Gracias, Carlos, for allowing me and my camera into your inner sanctum whenever you come to town. And for your kindness and friendship!