This Blog is my tribute on Boots. I love my trusty, durable and cool Boots.
I hereby give mention to four of my favourite boots brands and share some accompanying fun rock and roll anecdotes.
You will see I love established boot brands with interesting founders and longevity stories.
1) TONY LAMA
Tony Lama is a western boot brand and a division of Justin Brands, a Berkshire Hathaway corporation. Berkshire Hathaway is led by the legendary investment darling Warren Buffet out of Omaha, Nebraska.
When I first met Roger "Mr. Tambourine Man" McGuinn, the leader of the 60's psychedelic folk rock band, the Byrds, at Four Seasons Hotel, I had absolutely no idea what he was going to wear. I decided to take out my black teju lizard Tony Lama boots out for a spin.
Lo and behold, when we met, I could not help but noticed his black ostrich skin Tony Lama boots.
It's a sign! The start of a long friendship and of similar frequencies.
We took a casual fun picture to capture the moment we met (above image).
We also happened to be wearing our favourite Rolexes.
Fast forward to today, we're still friends and are in each other's daily prayers!
Roger and his lovely wife, Camilla never fail to send me Happy Birthday greetings every year.
I subsequently acquired a peanut brittle as well as a black ostrich skin boots.
2) BLUNDSTONE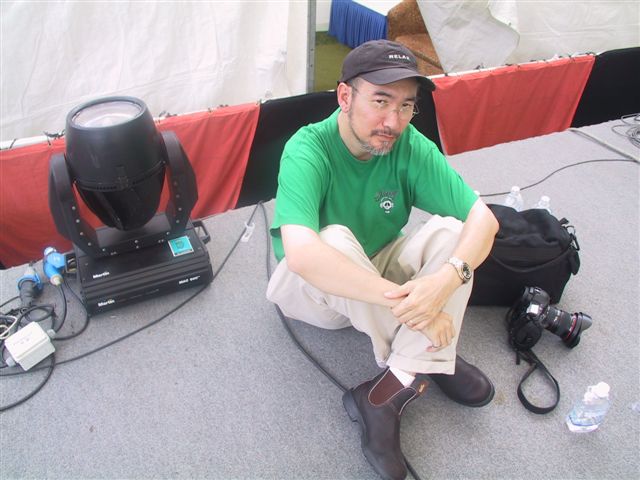 An Australian footwear brand, headquartered in Tasmania, founded in 1892 by John Blundstone and his eldest son Sylvanus.
I used to wear these broken-in brown work boots to concerts. In the early days of my rock photography, visiting rock band roadies who always stare at my Blundstones and always strike up a friendly conversation. "Hey, are those Blundstones?" "We're going to Australia for our next stop, where can we buy them?"
My advice was always, "Don't buy their 500s, it has lousy soles that disintegrate after a while. Buy the improved 550s instead, with more durable soles."
Above image of me in my 550's, with my camera equipment on stage, was shot by Chris Stein of Blondie (above image).
3) RED WING
Red Wing is an established and respected American footwear company based in Red Wing, Minnesota, USA, founded in 1905.
For my full-page Canon advertisement (portrait by Nelson Tan), featured in leading local and regional newspapers and magazines, I was featured in my Red Wing Classic Moc natural tan boots (above image).
A year or so later, I sauntered into a local Red Wing shop, the good folks there thanked me for wearing my Red Wings for my advertisement. They had seen the advertisement! If my memory serves me well, they had a copy of it on the shop wall.
They gave me a VERY good discount when I bought my second pair of Red Wing boots, this time a black Classic Moc with white stitches. They made me promise to wear it in my next interview. I did, in a video feature documentary.
4) R.M. WILLIAMS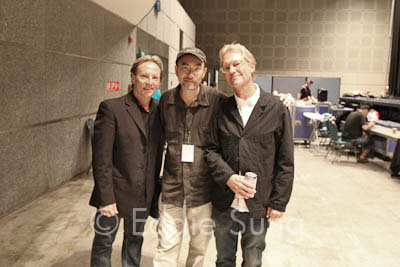 R. M. Williams is an Australian footwear and clothing company founded by Reginald Murray "R.M." Williams in 1932.
I first saw a RM Williams boots at an America concert, worn by the stylish Gerry Beckley. Gerry wrote America's evergreen songs – "Sister Golden Hair", I Need You", Daisy Jane" and "You Can Do Magic" etc etc..
Years later on a business trip to Sydney, I paid a visit to a R.M. Williams shop in the business district and bought a natural tan Jodhpur riding boots. Till today, it's still in great shape although the elastic side bands are a bit loose but it adds to a comfortable wear.
When America returned to Singapore for another concert, I related the R. M. Williams boots acquisition in the Sydney shop to Gerry Beckley. Gerry exclaimed "Hey, that's the same shop that I bought my boots from! And the same sales girl!"
Fashionista Gerry also noticed the white gold Rolex Daytona on my hand. We spoke about our favourite cool Japanese fashion designers like Hiroki Nakamura (Visvim) and Hiroshi Fujiwara (Fragment) as well as visiting the Ambush fashion shop in Singapore.
After penning this Boots blog, I now have the urge to give Nancy Sinatra's "These Boots Are Made For Walking" a cheery listen!
Walk On!