This is my humble Homage to the Hawaiian Shirt!
The Hawaiian Shirt is as refreshing as the blue Pacific Ocean.
I simply love Hawaiian shirts, and boy, do I have a few of them (image below).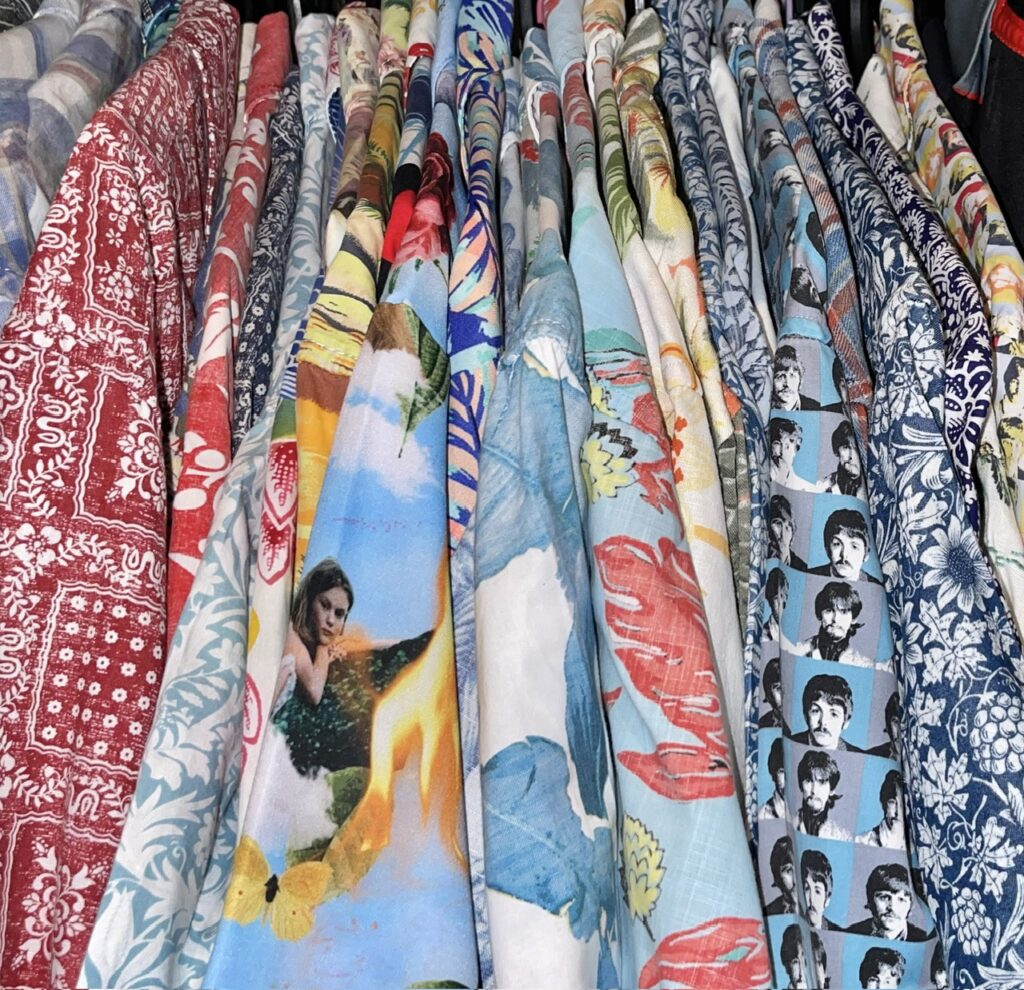 Going Hawaiian always put me in a light-hearted, refreshingly and radiant mood (above image). No hang-ups.
Throw in some of my favourite heavenly Hawaiian Songs – Honolulu City Lights, Only Good Times, Sunflower, Islands, Molokai'i Sweet Home, Waialua Sky, Wings Of A Seabird, and Lovely Hula Hands etc etc.
While you're at it, check out my favourite iconic Hawaiian Artists and Bands – Cecilio & Kapono, Kalapana, Beamer Brothers, Krush, Milani Bilyeu, Keola Beamer, Henry Kapono,and Olomana.
Shaka, brah!
My cool toy figures with Hawaiian shirts (above image).
Backstage with the Beach Boys' Brian Wilson (above image) and Mike Love (image below). I wore my favourite Lucky Brand Hawaiian shirt bought from my favourite Lucky Brand jeans outlet in San Diego.
My buddy Chiam See Tong, a well-loved and respected political Opposition Leader, wearing a Hawaiian shirt to Meditation Chamber. A true Chiam-pion of the people. See Tong knows I love Hawaiian shirts, so he adorned one upon visiting my home.
Lee Kuan Yew paid rare public respect to Mr. Chiam and the (then) Singapore President SR Nathan attended Mr. Chiam's daughter's wedding dinner.
Drummer extraordinaire Simon Phillips (Toto) came visiting in his Hawaiian shirt.
I even wore my Mambo Loud Hawaiian shirt to a Slipknot press conference.
Nine of my B/W images of each band member are featured in nine pages of their awesome and absolutely stunning Live 9:0 live album. Thanks so much, guys!
This is my humble Homage to the Hawaiian Shirt!