George Harrison's All Things Must Pass is my all-time favourite album.
In a previous blog, I told you Apocalypse Now is my all-time favourite movie. What can I say. decisiveness runs in my veins. Haha.
When the Beatles were breaking up, we see all four of the members coming out with their solo albums, trying to out-popularise each other in the the US and English album and singles charts. In the Beatles, John Lennon and Paul McCartney held sway in their own compositions being featured in the albums, allowing George Harrison only 2-3 songs per album.
As a consequence, George had a huge backlog of great songs to showcase to the unsuspecting public when the fab four finally went their separate ways as solo artists.
Harrison's first album offering in 1970, All Things Must Pass (ATMP), was an elegant triple-album box cover with a poster, he had enough proper songs to fill a double album! The third album consisted mostly of tight spontaneous Apple jam songs.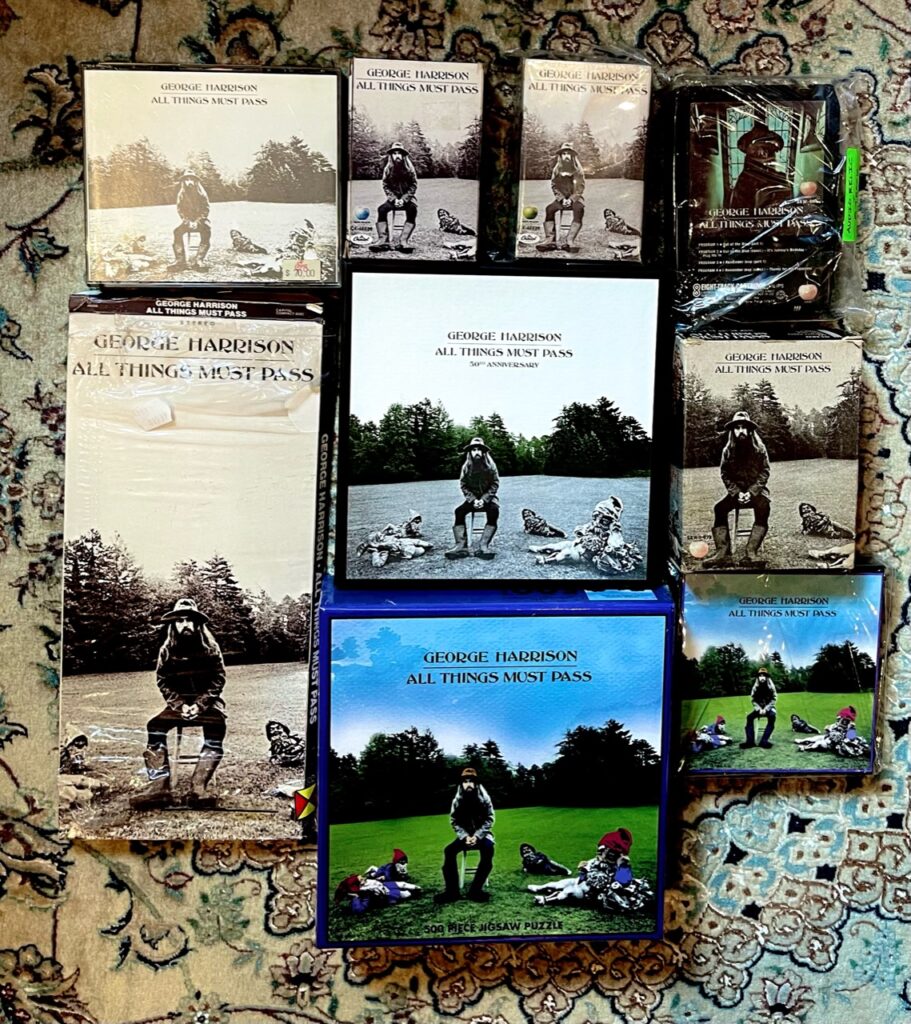 I liked what Harrison did with the symbolism of the cover. He was seen seated in the middle of four little garden gnomes, towering over them. Fab four gnomes? It was shot by my buddy Barry Feinstein. He had already spent a few days at Harrison's Henley-on-Thames Friar Park home photographing Harrison but nothing felt right. On the final day, when Barry was about to leave, the weather was right, the garden scene was set and the rest is harristory. More on Barry below.
When the album first came out, the price of the elaborate box set was way beyond my student allowance. As a student, I could only afford the first two singles from the album – the glorious My Sweet Lord and the upbeat What Is Life.
The sonic secret sauce was the Phil Spector-drenched "Wall of Sound" production style. I know Harrison thought it was over-the-top but I thought it was awesome. Suitable for the era. Spector also was the producer for the Beatles' Let It Be and John Lennon's quintessential Imagine, Plastic Ono Band, Mind Games, Rock And Roll, and Sometime In New York City albums.
Through the years, I had accumulated all music formats of the mythical album. As per above image, you can make out the CD long box cover, cassette box, eight-track cartridge, first edition CD version, 30th Anniversary CD Box Set, 50th Anniversary CD box set and piece jigsaw puzzle. As the time the pix was taken, my US-pressed vinyl album box set was in my storage facility.
The album kicked off with a Bob Dylan–George Harrison ballad composition called I'd Have You Anytime. The ultimate power play!
George also covered a Bob Dylan-penned song, If Not For You for his ATMP album. Dylan wrote this ballad for his then-wife Sara. Coincidentally, my matey, Olivia Newton-John also covered this beautiful ballad (Harrison's version) a year later in 1971.
Harrison and Dylan would the following year would appear on stage in aid of the Bangla Desh natural famine tragedy.
George Harrison by organising the Concert for Bangla Desh (1971) had effectively organised the world's first major charity concert, preceding Live Aid Wembley and Philadelphia concerts (1985) by 14 years!
Years later, Harrison would again collaborate with Dylan, even forming a band together – the Traveling Wilburys in 1988. The other three legendary band members were Roy Orbison, Jeff Lynne (ELO) and Tom Petty (Heartbreakers). The most super of supergroups.
I had the honour of meeting and becoming fast friends with the photographer of ATMP cover, Barry Feinstein (above image, at his home). In fact, I went to his Woodstock home several times. The first time I met Barry, I brought along Chris Stein of Blondie. Actually Chris drove me to Barry's home. Chris is an accomplished photographer who has published numerous photography books. I ended up acquiring the signed original cover and out-takes prints from Barry (images below).
Barry always signed his prints on the back.
Sadly, Barry passed on in 2011. I visited him in a Woodstock hospital on the day before he passed. Making me the last outside person (appropriately, a fellow rock photographer) to see him alive, besides his wife and hospital staff.
Poster advertising the 30th Anniversary CD box set (above image).
One of my fab T-shirts.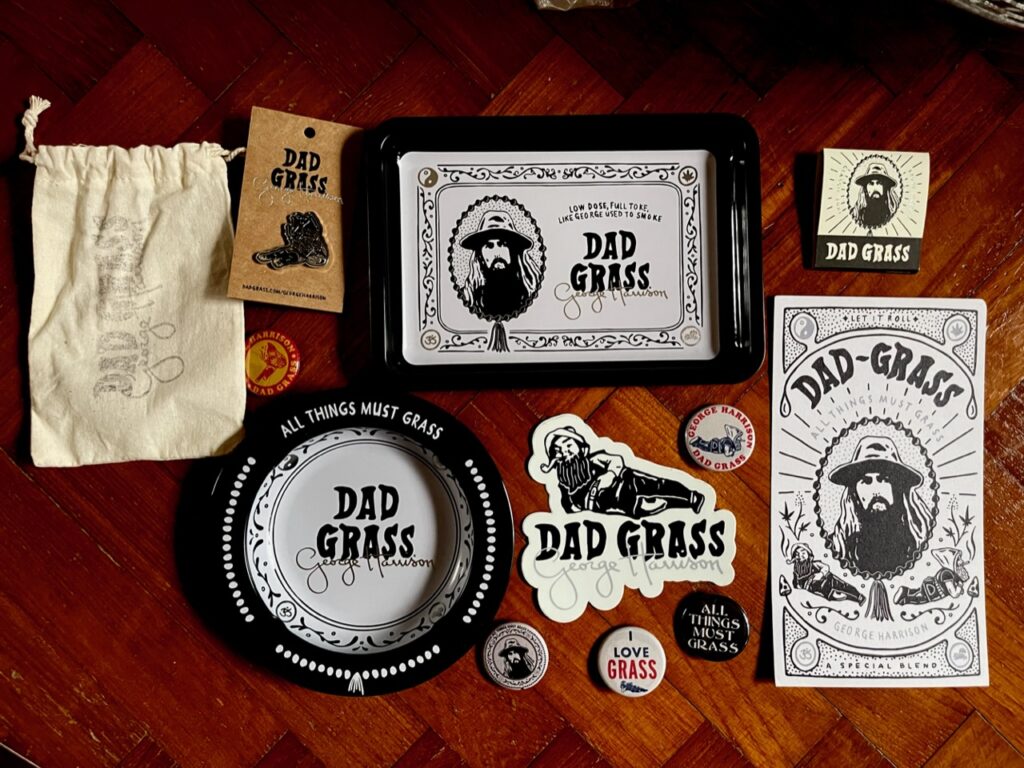 Last year, I was amused when Dad Grass, a hemp company, endorsed by the surviving members of George Harrison's family, came out with the All Things Must Grass series. Even though I do not indulge in the hemp culture, I bought the fun ATMP merchandise. Call me a Completist.
The popularity of the anthemic My Sweet Lord never died, it was featured in Marvel Studios' Guardian Of The Galaxy Vol. 2 movie in 2017.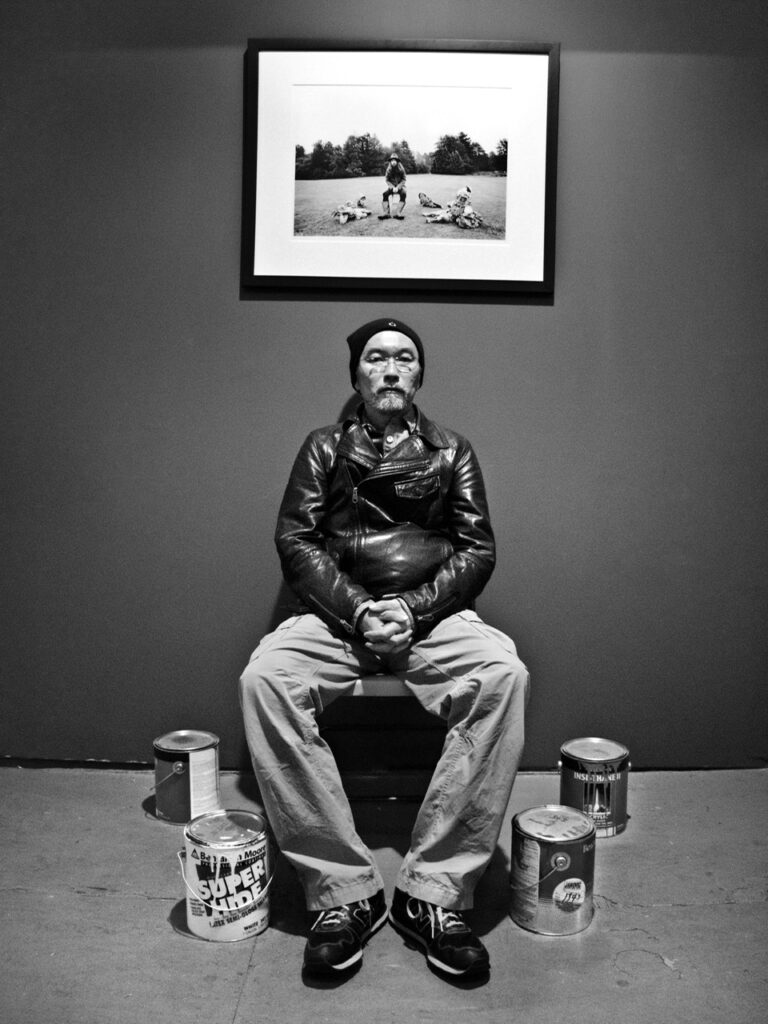 Bonus Image: A Garden-Variety Painter and his Fab-Four All-Weather Paint Cans.