Albin Johnson is the Founder/Father (TK 210) of the Star Wars 501st Legion. They go by the motto – "Bad Guys Doing Good". I call them the Intergalactic Boy Scouts, always having soft and giving hearts to local charities and to people who are forgotten and need smiles on their faces.
Albin turns Conflicts (Adversities) into Cornflakes (Treats).
He lost his left leg to an accident and lost his daughter Katie to cancer. He fell hard twice but got up three times.
He has earned my respect and this Blog is a tribute to my buddy Albin Johnson.
When I first met Albin (he was invited to Singapore for a May 4th celebration), I came face-to-face with the humblest, down-to-earth Dude with a ready sincere smile (image below). We took to each other like friends that were meant to be. We still email each other occasionally.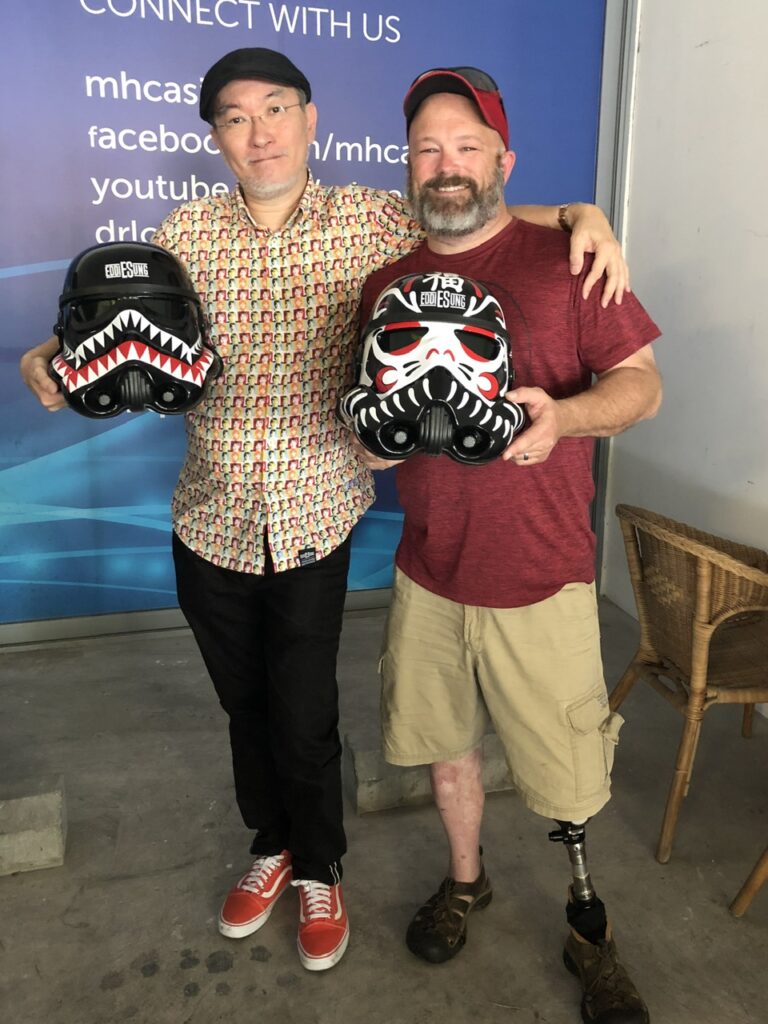 They say when you know what your purpose for being placed on earth is, when you conquered yourself, people will not only clear the way for you, they will follow your good example. That is the story of Albin Johnson and the rapid rise of the 501st Legion Empire.
I must confess that I'm not a super Star Wars fan like my Singapore 501st Legion friends. My favourite Star Wars movie is the 1977 Episode IV – A New Hope. My favourite bad guy character is Darth Vader (voice by James Earl Jones) whilst my favourite good guy character is Obi-Wan Kenobi (Alec Guiness). Lucas took inspiration from Akira Kurosawa's style of movie making and Darth Vader was inspired by the Japanese samurai image.
I must admit the first Star Wars movie Episode IV – A New Hope was IT for me. Who could ever forget the awesome iconic Lightsaber, the Death Star, Mark Hamill as Luke Skywalker, Carrie Fisher as Princess Leia and Harrison Ford as Han Solo and the first appearances by Darth Vader in the space craft and Obi-Wan Kenobi in the desert rescuing young Luke Skywalker, the Jedi class of spiritual warriors and the iconic yellow movie opening (much copied) Crawl. It was the start of a multibillion dollar movie franchise.
Jedi Fun Fact – Since the movie came out in 1977, out of the total 46 years in existence so far (2023), half (23 years) was in the last millenium and the other half (23 years) is in this millenium. With this profound knowledge, may you go fourth and prosper!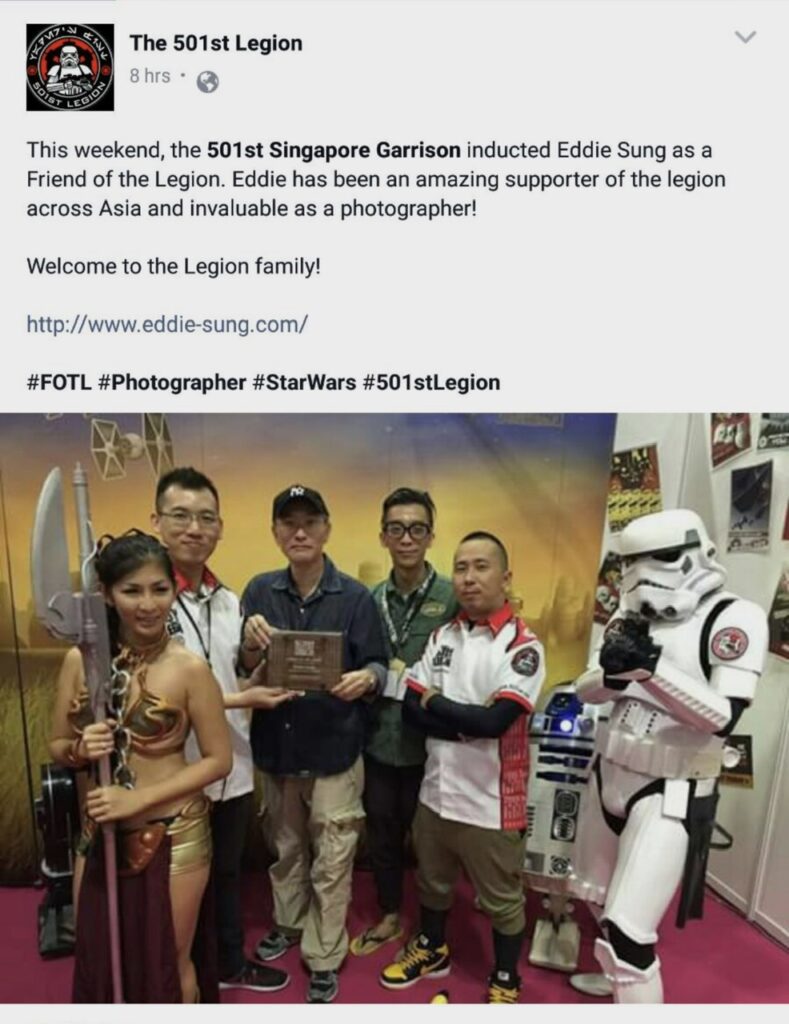 Years later, I'm pulled into Albin Johnson's 501st Legion vortex by being inducted as a Friend Of The Legion, through the kind gesture of one Hansen Khoo.
My cool "Friend Of The Legion" plaque.
In 2007, at the Pasadena Tournament of Roses Parade (above internet image), Albin got to hang out with George Lucas the Mastermind behind the original Star Wars movies. George paid Albin the ultimate compliment – "I created Star Wars, but you created this." (referring to the impressive global 501st Stormtrooper costuming phenomenon).
The 501st Legion are known to have fun and they generate some of the coolest merchandise including racing shirts, T-shirts, patches, coins, toy figurines, etc etc ec etc. (image below). I even have the above mentioned 2007 Pasadena Tournament of Roses Parade commemorative patch (courtesy of Tyrene Teo)
Had the chance to hang out with R2-KT droid at the home of Hansen Khoo. R2-KT is Albin Johnson's tribute to his late daughter Katie to spread awareness of pediatric illness.
Another example of Albin turning Conflicts into Cornflakes, in making the world a better place.
Everything and everybody loves Albin, even Aliens. Always a fun guy, we were at Jeffrey Koh's toy inner sanctum at Flabslab office.
Some of my favourite Star Wars collectibles (above image).
Always happy to take a challenging group portrait of my 501st Fun Fanatic Friends, on top the the Gardens By The Bay Supertree Skyway structure (above image).
Another group portrait of my 501st Fun Friends, at the Changi Beach re-enacting the Rogue One movie poster scene (above image).
A fun group pose after the official group portrait was taken (above image).
The making of Rogue One group portrait (above image).
The Force is strong with Albin Johnson. Albin left an indelible impression on me … and indelible marks on my Black Series Shadow Trooper helmets (above image).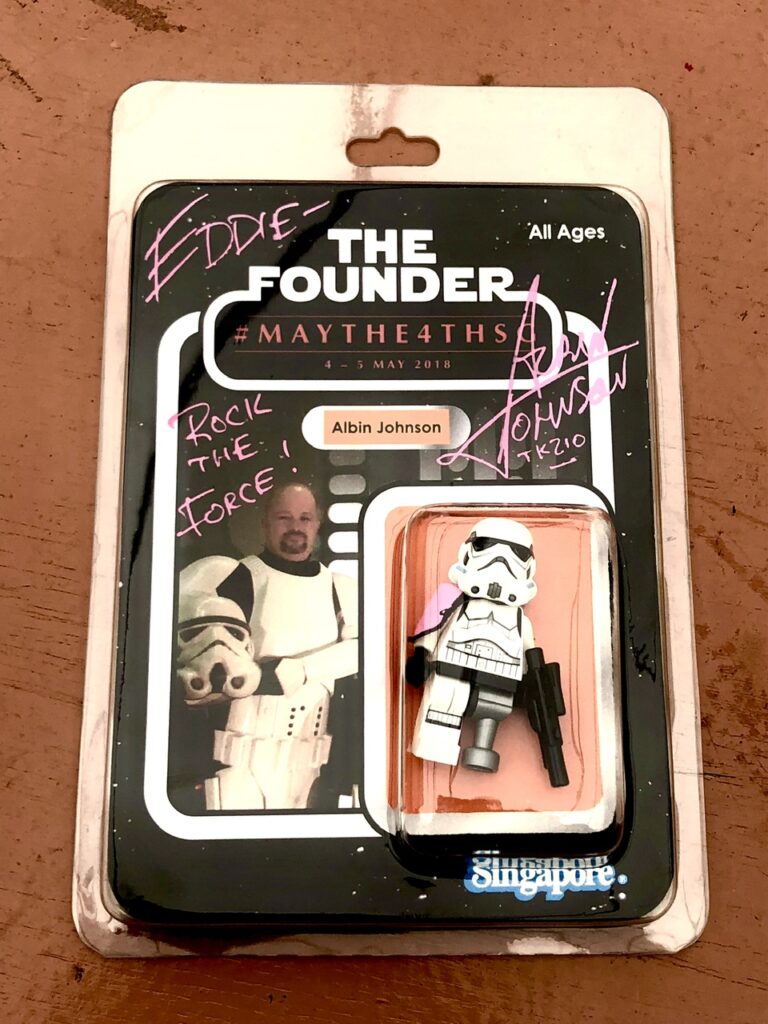 Cool signed Albin Johnson toy figurine blister pack, made by Flabslab (above image).
Rock On, Albin "Good Guy Doing Good" Johnson!